Posted: November 14, 2019
Students and faculty on the California campus today honored "the first First Lady of Thomas Aquinas College," Marilyn McArthur, who is celebrating her 90th birthday.
The wife of the College's founding president, Dr. Ronald P. McArthur, Mrs. McArthur came to campus for the midday Mass in Our Lady of the Most Holy Trinity Chapel, followed by a luncheon celebration in St. Joseph Commons. Joining her was President Michael F. McLean and his wife, Lynda; the two surviving principal founders of the College, Peter L. DeLuca and John W. Neumnayr; and their wives, Kay and Bridget.
"In order to get the College off the ground, Marilyn and Ron put at risk a tenured teaching position at St. Mary's College and left a lovely home in Moraga, California, to venture to Southern California to open the College on leased property," said Dr. McLean. "She helped guide the College through its difficult founding and early years and its challenging move to a new location here in Santa Paula, doing everything from making and hanging  curtains in the original modular dorms to turning an un-renovated Hacienda into a place of study, prayer, fellowship, and friendship for students and faculty alike."
Dr. McLean then led the room in a rousing rendition of "Happy Birthday":
"I am quite confident that Mrs. McArthur's prayers and unstinting support of Catholic liberal education played a large role in the establishment and success of this school," said Dr. McLean. "Please join me in thanking her for her wisdom and understanding and for the steadfast faith, enduring hope, and boundless charity she has put in service to Thomas Aquinas College to this very day."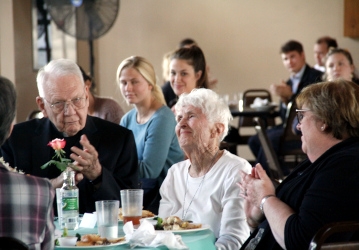 "The students that have had an opportunity to be part of the life of the College have been enriched by their experience in an environment conducive to achievement. Now in all walks of life, graduates of Thomas Aquinas College are contributing, by following a wide variety of pursuits, to the betterment of society."
– Renato Raffaele Cardinal Martino
President, Pontifical Council
for Justice and Peace
NEWS FROM THE COLLEGE