Posted: January 9, 2019
A recent story in the Ventura County Star discusses the work of Ojai's Agora Foundation — a 20-year-old nonprofit dedicated to studying and discussing the great books — whose founders are Thomas Aquinas College Governor Tom Krause and Vice President Paul O'Reilly ('84).
"Since May, the seminar group has been meeting twice a month at the Ojai Library to discuss 'The Foundations of Our Republic,' including the Declaration of Independence, 15 Federalist Papers, and the U.S. Constitution," writes Claudia Boyd-Barrett. "In addition to the free community seminars, which launched in 2018, the Agora Foundation puts on one-day and multiday paid seminars throughout the year focused on the great books underpinning civilization. Topics span philosophy, science, religion, literature, even mathematics."
The story goes on to quote an Agora seminar participant. "It's a really great program," he says. "It's intellectually stimulating and they encourage civil discussion. ... You have differing opinions expressed with consideration of each other."
Read the full story in the Ventura County Star.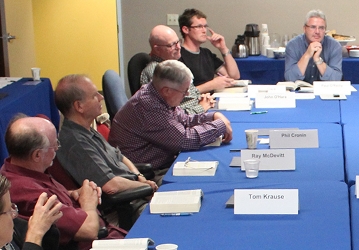 College Governor Tom Krause (left) and Vice President Paul O'Reilly (top) at an Agora Foundation seminar