Students to Appear in Upcoming EWTN Movie about Fr. Capodanno
Posted: August 24, 2017
Next Wednesday night, August 30, EWTN will air the premier of a new docudrama, Called and Chosen: Father Vincent R. Capodanno, featuring numerous Thomas Aquinas College students and recent graduates. (See trailer, below.)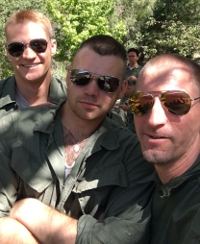 A New York native, Fr. Capodanno was a missionary priest who ministered to American Marines during the Vietnam War. Affectionately known as the "Grunt Padre," he was famous for his ability to connect with the enlisted men on a personal level, helping to bring many souls closer to Christ. On September 4, 1967, despite being seriously injured in an hours-long ambush by North Vietnamese forces, Fr. Capodanno sprinted across a battlefield to anoint a wounded Marine. The enemy responded by opening fire on the unarmed chaplain, who received 27 bullet wounds and died while performing this final act of faithful and selfless service.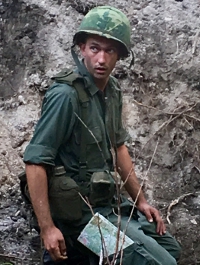 Fr. Capodanno posthumously received the Congressional Medal of Honor, and the Church, having opened his cause for canonization, has bestowed upon him the title "Servant of God." Now, in honor of the 50th anniversary of his death, EWTN is releasing Called and Chosen, a 90-minute program that chronicles Fr. Capodanno's extraordinary life and heroic sacrifice.
Early this spring, the film's writer and director, James Kelty, contacted the College looking for "fit young men between the ages of 18-25" to play the roles of Fr. Capodanno's fellow Marines in battle scenes to be filmed over Memorial Day weekend in nearby Santa Clarita, California. Seven members of this year's Junior Class — Tom Becher, Michael Dufresne, Ryan Kielas, Tom Macik, Hugh Mohun, Michael Sedler, and Brian Venegas — offered their services as actors, while another, Joe Daly, served as a production assistant. Three recent graduates also took on extra roles: Lawrence Donnelly ('17), Sean Phan ('17), and Joseph Teichert ('08). Some of the students had small speaking parts and were able to meet several of the veterans who served with Fr. Capodanno.
EWTN will debut Called and Chosen: Father Vincent R. Capodanno at 10:00 p.m. EDT on Wednesday, August 30. The network will also air encores at 3:00 p.m. EDT on Saturday, September 2, and Monday, September 4.
Fr. Capodanno, pray for us!
"Thomas Aquinas College is a small college, but its reputation has spread far and wide. Because it lives off the masterpieces of thought and literature emanating from the Christian tradition of the Western world, it provides a first-rate education for a select body of talented undergraduates."
– Avery Cardinal Dulles, S.J (†)
CALENDAR
NEWS FROM THE COLLEGE