Posted: December 20, 2018
"Not only is God with us, He is also one of us," writes Thomas Aquinas College sophomore Maria Braga-Henebry in the Bishop's Bulletin, the monthly journal of the Diocese of Sioux Falls, South Dakota. "He is infinite and therefore incomprehensible, but He is also a relatable God, because He took on our nature and shared our weaknesses."
Miss Braga-Henebry is one of five members of the Sioux Falls faithful included in Pondering the Incarnation, an Advent forum devoted to the question of "what it means that God is with us." There, she writes:
He is infinite and therefore incomprehensible, but He is also a relatable God, because He took on our nature and shared our weaknesses. He knew what it was to be human, so that we might know what it is to be divine. And not only is God with us and one of us; He is also with us for all ages in the Eucharist. He was not only present to us on earth at one point in time, but rather, gave us His Presence for all time. We have only to receive His gift and give Him ourselves.
Her full essay is available via the forum (last entry).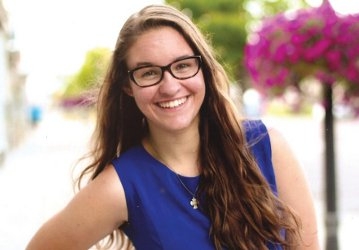 Maria Braga-Henebry ('21)