Posted: February 12, 2018
Note: The following essay is adapted from comments made before the Thomas Aquinas College Board of Governors at its October 28, 2017, meeting.
By Matthew Dugan ('18)
Well hello, everyone. I'm Matthew Dugan, for any of you whom I haven't yet met. I'm from Wayzata, Minnesota, a small town of 2,000 people, and I'm the youngest of four. So, there's a pretty large gap between my oldest brother and me — he's 13 years older, and that left me with big shoes to fill. I always felt like I had to be just like my big brother.
My big brother was a college football player, and so growing up I always wanted to play college football. And if I couldn't play college football, then I wanted to go to a school that had football. I wanted to go to a big school and get the whole thing: get to go to the games, get to tailgate, the whole deal.
Growing up, I went to a couple of private schools which were, unfortunately, not the best environment for fostering a love of learning, and which offered a watered-down faith. So, my mom was courageous and wise enough to take me out and homeschool me. That was in the eighth grade. It was a very, very, very hard change, but it was the best blessing that has happened to me in a lot of ways.
I enrolled at Mother of Divine Grace School; I'm sure a lot of you have heard of it. My consultant — my teacher, basically — was Laura Berquist ('75). Mrs. Berquist encouraged me to look in to Thomas Aquinas College, and she told me about the High School Summer Program. So I gave it a shot, even though the College has only about 350 students, and I was concerned that I would not meet people I could relate to.
Well, I went to the Summer Program — and I was completely taken aback.
The program is run by primarily current and former students, and what I saw in those students were young men and women who were fun, who were joyful, who could talk about things that were more lighthearted, and who could also talk about serious things, too. They could talk about deep and intellectual matters. They could talk about their faith. It was primarily the influence of those men and women that led me to attend the College. I saw an embodiment of what I wanted to be.
So I enrolled, and my four years have been one of those times when you don't see all of the fruits of what you're experiencing until you look back. When I was thinking about what I would say today, I looked back at these last four years, and it really is tremendous.
Freshman Year — coming into the program, learning that the world isn't just subject to physical laws, but that there is an order, and an intelligibility, and a purpose, and a goodness in nature.
Sophomore Year — learning about grace from St. Augustine, something that I had never really known about, even though I have been Catholic my whole life.
Junior Year — studying under St. Thomas, our teacher, the master of our school in a lot of ways. It was an experience of order and thought that I had never before encountered, and it was something that I think really planted a seed in me that will be with me my whole life. I intend to have St. Thomas as my teacher for the rest of my life.
And then Senior Year, studying the Trinity — it doesn't get much better than that!
The fruits of this school have been so profound, it's hard for me to fit them all into a single talk. But I can tell you, I have made friends that I know I never would have made if I had gone to any other school. I have become more deeply interested in truth than I would have ever become at a regular school. I have become more deeply invested in my faith than I ever would have become otherwise. And I feel so strongly about the impact that it has had on me that I am planning to enter a seminary this fall.
For those who have contributed to this place, in whatever capacity — particularly for the Board of Governors, and for your spouses as well —  I cannot thank you enough. Your generosity is a gift that I cannot repay.
If you would have told me four years ago that I would now plan on entering a seminary, I would have laughed. I would have said, "That's a joke. No way!" So I thank all of you very much, and if you ever doubt, if you ever wonder, "Maybe my labor, my sacrifice, my efforts for this college are in vain," don't tell yourself that! There are many like me who have received this gift, who are so appreciative and are so thankful.
Thank you, and God bless you all.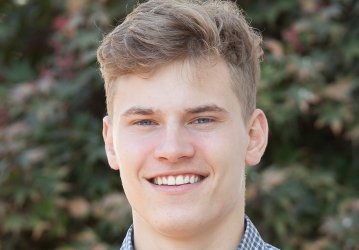 "It was at the College when I began to take my faith seriously. The community life, all the people, the faculty, the staff — and the Mass — all that really helped."
– Br. Robert Nesbit, O.S.B. ('07)
"Thomas Aquinas College is a paragon of what Catholic higher education ought to be."
– William Cardinal Baum
Prefect Emeritus
Congregation for Catholic Education
CALENDAR
NEWS FROM THE COLLEGE