Posted: May 29, 2019
Note: The following essay is adapted from remarks made to the Thomas Aquinas College Board of Governors at its fall 2018 retreat.
By Sophia Dufau ('19)
Ladies and gentlemen of the Board of Governors, I want to begin by thanking you for including me today. It is truly an honor to be surrounded by such kind and intelligent people.
My journey to Thomas Aquinas College has been entirely providential. The summer after my junior year of high school, my mother mentioned to me the possibility of attending the High School Summer Program. I had heard of the College before, but I had never considered the possibility of going to school there, or even to a two-week summer program. But I decided to take a chance, and I enrolled in the program for the summer of 2014.
I cannot put into words the way I felt at the High School Great Books Summer Program. It was as if my eyes were opened to a world I never knew existed. Reading and analyzing various texts really did produce wonder in me, and in my peers, as the Summer Program intends. I left the program with a passionate desire to read and discuss everything and anything, just to seize the truth about things. Within a few months it became clear to me that this was God's plan for me. I was meant to go to Thomas Aquinas College.
Since I have been at the College, I have found purpose, and I have witnessed others find purpose, too. We, the students of Thomas Aquinas College, are incredibly blessed to live the lives we do, in and out of the classroom. In class, we are allowed the opportunity to discuss the greatest works ever written and to come up with various opinions about the biggest questions ever asked. We are given assignments for which we are to prepare by closely reading and annotating, but most importantly, by wondering about. When we come to class, we are prompted by our tutors and we delve deep into the text, digging and searching for the truth in the words we see written on the page.
Each and every class, each and every section, comes up with something wonderful, and the beauty isn't just contained in the classroom. Because we all read the same works and take the same classes, the conversations don't cease when we leave the large wooden tables or blackboards. They transfer to our dorms, the Commons, even off campus. Some of the best talks I have had, with the best friends, have begun with someone bringing up a problem encountered in Philosophy class, or an aha moment that occurred during Theology. It is truly an amazing life to live.
So where do I go now? I have been fortunate enough to have participated in an internship at the Department of Justice this past summer, continuing currently throughout the school year. When I got the internship, I was shocked. I had applied knowing how competitive it was, so I didn't expect to receive a job offer. However, I was contacted by the internship coordinator and, after an extensive background process, including a polygraph and several interviews, I received a job offer.
Looking back now, I see that the reason I got the offer was because of my education at Thomas Aquinas College. The required skills listed in the application mirror almost exactly what TAC promises to develop in its students, including analytical thinking, attention to detail, critical thought, interpersonal skills, and problem solving. I am now in the hiring process to come on as a full-time employee after graduation, working any job in any city the Department of Justice sees fit. My TAC education made me an attractive applicant to the DOJ; they need people who are good at finding the truth, something you may have heard the College also likes.
Now, armed with logic and rhetoric and my new ability to think, I am ready to step out into the world and represent our community well. My fellow students and I will not disappoint; we are ready to seize the truth and bring discussion and goodness to all that we do.
We are all deeply indebted to Thomas Aquinas College and you, the Board of Governors. There is no way we can repay what you have done for us. The best I can promise is that I, and the other graduates of the Class of 2019, will not put away our Aristotle and Euclid on our shelves, but we will continue to actively search for the Truth in every way possible.
Miss Dufau is from Camarillo, California.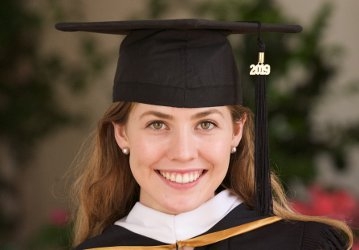 "If you come to the College with any spark of faith at all, it's fanned into flames. That's certainly what happened to me."
– Dr. Jean Rioux ('82)
Chair of the Department of Philosophy, Benedictine College
"This is truly a Catholic center of learning because it reverberates with the ecclesial life of faith, a faith which unfolds the richness of reason and is given fervent expression liturgically, sacramentally, and through prayer, acts of charity, and a passion for justice."
– The Most Rev. J. Michael Miller
Archbishop of Vancouver
Former Secretary, Congregation for Catholic Education
CALENDAR
NEWS FROM THE COLLEGE