Posted: February 3, 2020
John Heney was a scientist, an engineer by training, who spent many years at the Hughes Research Laboratory in Malibu, working on cutting-edge, top-secret government contracts. He loved the scientific method and reasoning out answers to all questions, large and small, in measured, methodical steps.
"My father's motto as a scientist was, 'always and only go where the data takes you,'" says his son Rev. David Heney, pastor of St. Bruno Catholic Church in Whittier, California. "That means you can have no personal bias about what you would like to have happen; you must stay faithful to the actual data that you have collected. He recognized the humility of science to always stay with only what you know for sure, so far, and not overstep your conclusions."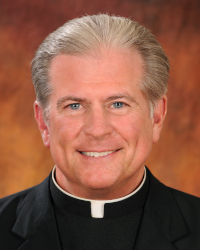 Rev. Dave HeneyAlthough providence would bring Fr. Heney to the seminary, rather than to a career in the natural sciences, he has always shared his father's love for scientific inquiry. "I inherited many of his characteristics, always questioning, always wondering," he observes. "I don't have a degree in science, but I continue to read it; I continue to study it all the time, and I give a lot of talks on it." Indeed, Fr. Heney and a parishioner, Robert Klaren, have recently coauthored a book — Physics and Faith: From Light to Life — which examines evidence for God in the natural world.
Fr. Heney's mother, Beatrice, did not share her husband and son's love of science. "Her life was in sports; she was a star basketball player back in the 1930s," he says. Mrs. Heney was, however, profoundly committed to her children's education and to nurturing their sense of wonder. "She deeply believed in education, in learning, and in going to school."
Faithful Catholics, the Heneys also believed strongly in helping others. "They always taught me that whatever you have — whatever talent, or gift, or money — is a tool to be used for some good," says Fr. Heney. So when his mother passed away in 2009, followed by his father in 2016, Fr. Heney sought to put their estate to a worthwhile purpose that would honor their memories. 
Upon reflection he established the John, Beatrice, and Fr. David Heney Endowment in Support of the Natural Science Laboratories of Thomas Aquinas College. The Endowment will generate, in perpetuity, revenue to provide for the needs of the College's Natural Science curriculum. "All students at Thomas Aquinas College take four years of Natural Science, in which they replicate, as closely as possible, some of the experiments from history's great scientists," says Dean John Goyette. "We therefore have an ongoing need for laboratory equipment, which the Heney Endowment will go a long way toward meeting."
By establishing the Endowment, Fr. Heney and his late parents have become members of the College's Legacy Society. "The Legacy Society exists so that friends can support the College through their estates and planned giving," says its associate director, Robert Bagdazian. "As a measure of our gratitude, the Heneys will be remembered regularly in our Masses at the College."
In Thomas Aquinas College, Fr. Heney says, he sees the commitment to rational inquiry that animated his father's love of science — and his own. "Years ago I accompanied our local Legatus Chapter as its chaplain for a TAC seminar experience," he recalls. "In our discussions, we could only refer to ideas taken from the texts — or data — already set before us, and nothing from outside that set. That was a humble model of science that I knew my father would approve of! I knew that he would appreciate a gift made to the College that would ensure that that kind of scientific procedure would continue."