Posted: June 6, 2018
Note: On Friday, Los Padres National Forest officials declared the Thomas Fire extinguished, with no hotspots detected in the last two months. In honor of this good news, over the next several days the College will publish reflective stories about the fire, all of which appeared in the Thomas Fire Commemorative Edition of the Thomas Aquinas College Newsletter (receive a free subscription.)
Evacuated Students Find Refuge and Solace with Heather and Bud Daily
There was little time between the start of the Thomas Fire and the evacuation of Thomas Aquinas College — only enough for one decade of the Rosary.
"As we were gathering in the Commons, getting ready to evacuate, my friend Karina Bates ('18) stood up and yelled 'Hey, everything's burning, so we're gonna pray a Rosary right now!'" recalls Mariah Halbur ('18). "We all went over to the crucifix, but there was only time for one decade."
After they received their evacuation instructions, Mariah got into the car of Nicholas Gartonzavesky ('18), along with his brother, John ('21), and a few friends who made the 30-minute drive to Ventura's Sacred Heart Church. The Rosary continued en route, and the prayers were answered. Not only would Thomas Aquinas College survive the fire, but — thanks to the generosity of many good friends — every student would find refuge.
For Mariah, the Gartonzaveskys, and seven of their soon- to-be-closest friends, that refuge would be the Camarillo home of College Governor Bud Daily and his wife, Heather. "We offered our house because we knew the students needed a place to stay," says Mr. Daily. "But we didn't foresee what a joy it would be for us to have them with us. They were so much fun, so polite, so peaceful, despite all that was going on in their lives."
For hosts and houseguests alike, it was a blessed seven days.
Settling In
As the cars left campus for Sacred Heart, College officials contacted friends in the area, asking for volunteers to house students. Alumni, faculty, parents, and neighbors responded immediately, as did local members of the Board of Governors. Chairman Scott Turicchi and his wife, Lannette, who live in Pasadena, opened their house in Santa Barbara to 15 students. And Mr. and Mrs. Daily, who were in the process of trying to sell their home, opened their doors nonetheless.
"I called Heather from the church parking lot and asked her how many students we could take — four, five?" says Mr. Daily. "She said, 'Keep going.' Six, seven? Again, she told me to keep going, all the way to 10." Within minutes, three cars of student evacuees were on their way.
"I was pretty shaken up," remarks Suzanne Urbancic ('18), who was uneasy about staying with strangers. Yet those concerns soon dissipated. "Mrs. Daily met us at the door and gave us all a hug as we walked in," she continues. "Then she said, 'You are safe here. You are welcome for as long as you need to stay.' And I'm thinking, 'Thank you so much! How can you be so wonderful?' It was very comforting."
In no time, the students made themselves at home, and a day-to-day routine emerged. They lived, as Nicholas puts it, "like college students" — staying up late into the night and rising late in the morning. When they awoke, they invariably found Mrs. Daily in her kitchen, lovingly preparing breakfast. Although the students claim that, in her generosity, she left them little work to do, Mrs. Daily contends otherwise. "They were very helpful!" she insists. "The girls helped me with meals, and the boys always volunteered for cleanup."
During the day the students took trips, as needed, to purchase clothes, toiletries, and other essentials that, in their haste, they were unable to bring with them. They paid close attention to the progress of the fire and regularly called their parents. In down moments they played chess, read books, and studied.
Dinners, says Mr. Daily, alternated between "home cooking and international takeout," followed by the nightly Rosary. After prayers, the Dailys retired for the evening, and the students played their nightly game of Farkle — a riotous game involving six dice and ear-shattering laughter — then watched a movie.
"Somehow, emotions didn't rise, tempers didn't fray, and everything between the 10 of us actually worked really well for the full week," reflects David Sherwood ('18). Adds Mrs. Daily, "The students were very thoughtful toward each other and to us."
Stepping Out
Just about every day the Dailys and their charges devised some sort of activity to busy themselves, including walks around the nearby golf course and hikes in the area. On Wednesday, Mrs. Daily asked if anyone wanted to go to the Camarillo Public Library. "Let's go!" said Nicole Steltz ('19) excitedly. "We're TAC students. We like to read!" After surveying her peers about titles, Nicole procured a library card and checked out 35 books. "We got the entire Lord of the Rings series, The Silmarillion, Nicholas Sparks, and P. G. Wodehouse," Thomas Graf ('19) observes wryly. "It was the most TAC library trip in existence."
That night, "just to add to the TACness," says David, the group staged a dance. "Everyone was still anxious," explains Nicole, "and David said, 'I have some music, let's do some dancing after dinner.'" Thus the Dailys' patio — with its panoramic view of the Camarillo Valley, where, sadly, fires still burned in the distance — became a dance floor. "We went out there and did some couples swing and a little waltz," says Nicole. "It was so much fun."
Thursday was, according to most, the pinnacle of the visit. "That afternoon Mr. and Mrs. Daily asked that, since their children were out of town, would we like to decorate their tree for them. We were so happy to be able to help!" says Suzanne. Everyone had a job: "The guys went with Bud and got the tree, and the girls decorated it," says Mrs. Daily. "I never changed a thing. It was so perfect." That evening the couple took their young guests out to dinner, then ice cream, after which they toured the neighborhood Christmas lights.
When the group returned, the students had a treat planned for their hosts. "We decided to put on a concert," says Nick. "Benedict Urbancic ('19) had the idea to call our group the Thomas Fire Choir, and we named our first soundtrack 'Zero Containment.'" The impromptu choir, which providentially included sopranos, altos, tenors, and basses, had held two surreptitious practices beforehand. That night, they serenaded the Dailys with "Veni, Veni Emmanuel," "Nearer My God to Thee," "Ave Maria," and "Lo, How a Rose E'er Blooming."
"They put on a concert for us, eight of them, right there in our living room, as we sat on our sofa," says Mrs. Daily. "Their harmonizing was amazing! I want to cry just thinking about it. They said it was their gift to us, and it was beautiful. I will never forget it."
Heading Home
On Saturday — after long days of wondering about the state of the campus and the remainder of the semester — the students received some welcome news. "My dad texted me a picture of the TAC Twitter feed," says Nicole. "And he wrote, 'TAC is alive!' Then, almost right away, we started getting texts from prefects saying that the College was OK. We all just took a deep breath. I looked at the College's Facebook page, then announced: 'Finals are canceled!'"
Everyone cheered. They were free to go home.
Mr. Daily urged the students to call their parents, and his wife endeavored to make sure they returned home safely. "She asked me to call her when I got back, so she would be sure I made it to Ohio," says Suzanne. "When I got off the plane, I gave the phone to my mom, who was so thankful" — as were they all. For one week, when the students needed it most, the Dailys were, as David described it, "like a third set of grandparents."
Upon learning that finals had been canceled, the couple's adopted grandchildren departed as quickly as they had arrived, leaving for points all over the country. "They took off in cars, planes, and trains," says Mrs. Daily. "We were so happy for them and their families … but also a little sad to see them go."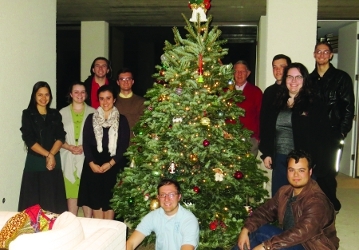 "At my alma mater and in the Marines, hard work and high standards are the norm."
– Major Brooks Braden ('97)
Judge Advocate, U.S. Marine Corps Reserves
"With an academic program as rigorous as Thomas Aquinas College's, and with a long line of successful alumni, Thomas Aquinas College is essential to the health of our Church in the United States and beyond."
– The Most Rev. Thomas Daly
Bishop of Spokane
CALENDAR
NEWS FROM THE COLLEGE