Address to the Class of 2013
By Dr. Michael F. McLean
President, Thomas Aquinas College
May 8, 2013
You are coming of age in important and challenging times for the Catholic Church. A new pope has been elected, and the Church's teachings on the natural law, marriage, and sexual ethics are under relentless attack.
Pope Francis has begun his pontificate by focusing on humility as a path to holiness and by emphasizing that humility is the foundation of our Christian vocation. In a recent homily, he pointed to your class patron — St. Joseph — who, with Jesus and Mary, traveled the "road of humility" to Bethlehem, and who "lowered himself to take on the great responsibility" of his bride who was with child.
The media, as might be expected, have picked up on some of the Holy Father's external acts of humility — for example, his refusal to stand on the customary platform above other bishops, his use of simpler vestments than his predecessors, the fact that he paid his own hotel bill after the conclave, and that he has opted out of the apartment that popes have lived in for a century in favor of simpler accommodations.
Humility as a Habit of Soul
I am certain, however, that Pope Francis, like many Fathers and Doctors of the Church, as well as churchmen throughout the centuries, knows that humility is fundamentally a virtue of the inner man — a habit of soul by which one "inclines to the lowest place" (ST Q. 161, A1, ad.1). Interestingly enough, St. Thomas says that "humility moderates the movement of hope, which is a movement of the spirit aiming at great things" (Ibid. A.4). "For those appetitive movements which are an impulse towards an object, there is need of a moderating and restraining moral virtue, while for those which are a kind of recoil, there is need, on the part of appetite, of a moral virtue to strengthen it and urge it on" (Ibid. A1).
Hope has for its object a future good — beatitude — which is arduous, but possible, to attain. Humility restrains the appetite from aiming at this good immoderately or contrary to right reason; the virtue of magnanimity, on the other hand, urges the appetite to aim at this good moderately or in accord with right reason. "It belongs to humility, then, that a man restrain himself from being borne towards that which is above him …[and so] he must know his disproportion to that which surpasses his capacity."
Scripture, of course, and the Church Fathers emphasize the importance of humility in the Christian life. "Learn of me," Our Lord says, "for I am meek and humble of heart" (Matt. 11:29). This, says St. Thomas, is an exhortation to avoid striving to become great in earthly things, a principal hindrance to our spiritual welfare. St. Augustine, for his part, says that "almost the whole of the Christian teaching is humility."
Pope Francis is right to call humility the foundation of our Christian vocation. St. Thomas says, "That which is the first step in the acquisition of virtue is likened to the foundation, which is first laid before the rest of the building. Now the virtues are infused by God ... [in which] the first step is the removal of obstacles: humility, thus, holds the first place, inasmuch as it expels pride … and makes man submissive and ever open to receive the influx of divine grace" (Ibid. A5, ad 2). In the words of St. James, "God resists the proud, and gives grace to the humble" (James 4:6).
Appropriately enough, St. Thomas says that humility is an especially apt virtue for young people to develop, because hope, which humility moderates, abounds in the young. "For youth," he says, "has much of the future before it, and little of the past … it has little to remember and much to hope for." Youth is full of spirit and so tends to what is arduous, and because the young have not suffered defeat, nor experienced obstacles to their efforts, "are prone to count a thing possible to them" (ST Q40, A6). For similar reasons, by the way, St. Thomas says that hope abounds in drunkards … and so I would conclude from this that humility would seem to be doubly necessary in young adults who are drinking wine. But that's a talk for another time.
Obstacles to Humility
Your very youthfulness can make humility a difficult virtue to cultivate. With the enviable spirit of the young, your class quotation from Pope Emeritus Benedict says, in part, that "we were created for greatness." This is a noble aspiration. It is even a humble aspiration if we aim at high things "confident in God's help." It is contrary to humility, however, to aim at high things "confident in one's own powers" (Ibid. A2). Out of reverence for God, we must restrain our appetite from tending inordinately to great things and we must not deem ourselves to be above what we are. In humility, we should restrain our own wills, acknowledge our shortcomings, and put others before ourselves.
Your very education can also make humility a difficult virtue to cultivate. You have attained a certain familiarity and facility with great things. You have acquired a certain confidence in your grasp of the truth and in your own intellectual powers. Yet, as St. Thomas points out, humility requires that we not be in a hurry to speak and that we not be immoderate in speech. You should be mindful of how much you have relied on others, not only the authors of the great books themselves, but your tutors and fellow students. You should remember that, with respect to wisdom, you enter the world not as masters but as apprentices, having more to learn than to teach.
Finally, the very times we live in make humility a difficult virtue to cultivate. I said at the beginning that some of the Church's central teachings are under attack. Nonprofit and for-profit Christian organizations, including the College, are under attack. We are threatened with substantial fines and penalties if we don't abide by the HHS mandate to provide insurance coverage for certain procedures and medications that are contrary to Catholic teaching. The mandate, in essence, requires the College to choose between its duty to obey the civil law and its duty to remain faithful to Catholic teaching. The mandate offers an "accommodation" to the College and others, but one that would continue to make the College complicit in the provision of questionable coverage. In this battle, the appropriate response for faithful Catholics appears not to be humility but rather righteous anger, legal challenges, and appeals to religious freedom.
Humility in Battle
Even when combating the enemies of the Church, however, we must remember that we are called to humility by great saints, by the authors of Sacred Scripture, by our new Holy Father, and by Christ Himself.
The remainder of your class quotation from Pope Emeritus Benedict provides a sobering reminder: "The ways of the Lord are not comfortable, but we were not created for comfort." Our times — your times — are not comfortable for believing Catholics and Christians. But St. Thomas, citing Gregory, says there is nothing great in being humble toward those who treat us with regard — even worldly people do this. We should be especially humble, says Gregory, toward those who make us suffer. Imitating our Lord, St. Thomas says, "We may even go so far as lovingly to embrace external abasement" (ST Q 161, A6, ad. 3).
Humility may or may not help us to win our temporal battles. However, if the witness of Pope Francis is any indication, we can hope that acts of humility are precisely what will draw people to Christ and the Church in these times. Whether or not this turns out to be true, we can be certain that humility will help us to win the one battle that really counts.
"Clothe yourselves with humility in your dealings with one another," says St. Peter, "your opponent the Devil is prowling around like a roaring lion looking for someone to devour … resist him, steadfast in faith, knowing that your brothers and sisters throughout the world undergo the same sufferings. The God of all grace who called you to His eternal glory through Christ Jesus will Himself restore, confirm, strengthen, and establish you after you have suffered a little."
With these words of reassurance, we welcome you as fellow pilgrims to a struggle — a struggle to win hearts and minds to Christ and to bring those whom you will encounter closer to the good, the true, and the beautiful. In this effort, you must always conduct yourselves with prudence … always with humility of heart.
Thank you.
Posted: May 9, 2012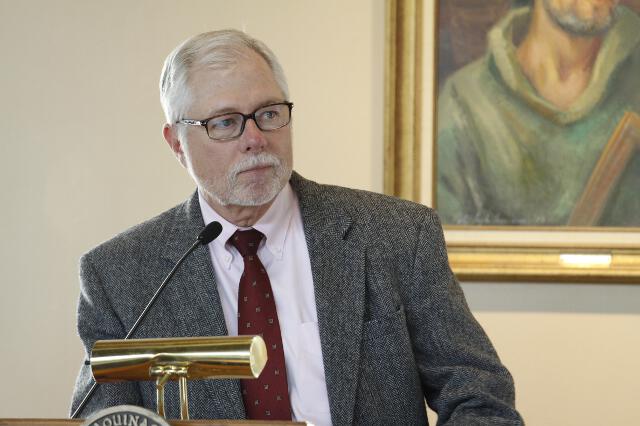 "Thomas Aquinas College has always been thoroughly Catholic in its identity. It's an outstanding program of studies, founded on a loyalty to the Chair of Peter and to the Magisterium of the Church."
– Raymond Cardinal Burke
Prefect, Supreme Tribunal
of the Apostolic Signatura
CALENDAR
NEWS FROM THE COLLEGE