Posted: August 7, 2018
Top Rankings for "Classroom Experience"
& "Most Religious Students"
Thomas Aquinas College provides one of the best undergraduate educations in the country, according to The Princeton Review. The education services company features the College in the 2019 edition of its annual guide, The Best 384 Colleges. Only about 15 percent of America's 2,500 four-year colleges are profiled in the publication. Thomas Aquinas College is one of only three Catholic schools recommended by the Cardinal Newman Society to make The Princeton Review's "Best Colleges" list. 
Among the ratings for Thomas Aquinas College are scores of 96 for academics, 94 for quality of life, and 99 for financial aid. Members of the College's teaching faculty, likewise, earned scores of 98 for being both "interesting" and "accessible." (In this scoring system, 99 is the best possible score.) The Princeton Review also named the College as one of just 10 schools nationwide on its Financial Aid Honor Roll.
"We picked the 384 'best' colleges for our book primarily for their outstanding academics," says Robert Franek, The Princeton Review's editor-in-chief and the book's lead author. "We highly recommend each one."
In its profile of Thomas Aquinas College, The Princeton Review quotes extensively from the College's students. Among their comments:
Thomas Aquinas College is a school that "takes learning seriously for its own sake, not just as preparation for a job."
The College has "a strong Catholic identity" and "a rigorous curriculum," which teaches students to "read and think critically."
The use of the Discussion Method in classrooms "better facilitates learning."
The College offers a "holistic education" that is "demanding on every level," in "an atmosphere of trust and faith that makes it easier to study, to live, and to grow."
Members of the teaching faculty "have a passion for intellectual formation," are "always ready to help their students," and "lead you to truth without forcing it on you."
"You get all different kinds of people here — but one thing they have in common is a desire to search for the truth."
The guide also reports 62 ranking lists of "Top 20" colleges in various categories, based on The Princeton Review's survey of 138,000 students nationwide. Topics range from students' assessments of their professors to opinions about the quality of financial aid and campus food. Among the "Top 20" ranking lists on which Thomas Aquinas College appears are:
3. Most  Religious  Students   
10. Great  Financial  Aid  
17. Best  Classroom  Experience
Finally, in a "Survey Says" sidebar in the guide's profile of the College, The Princeton Review lists some sentiments that were frequently expressed by Thomas Aquinas College students. The list includes:
Students  are  happy
Classroom  facilities  are  great
Class  discussions  encouraged
Great  financial  aid
No  one  cheats
Students  are  friendly
Diverse  student  types  interact  on  campus
Students  are  very  religious
Dorms  are  like  palaces
"We are pleased that, once again, The Princeton Review has featured Thomas Aquinas College in its annual guide," says the College's president, Dr. Michael F. McLean. "Of particular note are the high scores we received for our academic and financial aid programs, and for our students' 'quality of life.' Our goal has always been to provide the best education at the most affordable price, and The Princeton Review profile offers some strong evidence that we are succeeding."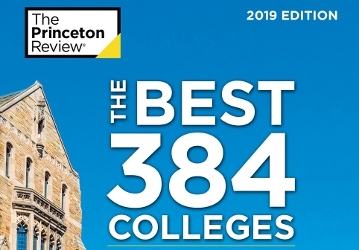 "When you first arrive here, the upperclassmen are almost like your heroes because they're at the place — or approaching the place — where you want to be, both intellectually and spiritually. It promotes friendship in a way that I have never seen before."
– John Jost ('17)
Algonquin, Illinois
"Thomas Aquinas College is uniquely positioned and equipped to let light shine once more in our world, in our society, in our communities, in our families, in our relationships."
– Most Rev. Paul S. Coakley, S.T.L., D.D.
Archbishop of Oklahoma City
CALENDAR
NEWS FROM THE COLLEGE