Posted: May 9, 2019
Note: Each year the president of Thomas Aquinas College hosts a dinner on the Wednesday before Commencement for members of the faculty and staff to bid farewell to the graduating class. The president, dean, and assistant dean all speak to the Seniors and, customarily, the Seniors present a gift to the College. Below are the text and audio of President Michael F. McLean's remarks, as well as a photographic slideshow from this year's dinner.
Address to the Class of 2019
By Dr. Michael F. McLean
President, Thomas Aquinas College
May 8, 2019
In an address to the Extraordinary Synod of Bishops in 1985, Pope St. John Paul II said, "Heralds of the Gospel are needed, who are experts in humanity, who know the depths of the heart of man in today's world, who share his joys and hopes, his concern and his sadness, and who at the same time are contemplatives, people in love with God. For this, new saints are needed. We must beg God to increase the spirit of sanctity in the Church and to send us saints to evangelize today's world."
Your education has helped to make you ready. In studying literature, philosophy, theology, and the other arts and sciences, you have developed an understanding of human nature and of what is perennial in human experience and have progressed toward the contemplation of God. You have the potential to be the saints the Church so desperately needs.
Make no mistake: Christians are called to be saints; those of you who are not Christian are called to lives of virtue. In Lumen Gentium we read, "All the faithful, whatever their condition or state — though each in his own way — are called by the Lord to that perfection of sanctity by which the Father himself is perfect." You must strive for sanctity in your work, whatever it may be; you must strive for sanctity in your families, should you be called to the married state; you must strive for sanctity as priests and religious, should you be called to the priestly or religious life. Evangelization, whether new or old, requires that you bring people before the person and life of Jesus Christ.
You do this by love. Christ himself has said, "I give you a new commandment: love one another. As I have loved you, so you also should love one another. This is how all will know that you are My disciples, if you have love for one another." In the words of one of the great literary masters in our program, Fyodor Dostoyevsky, excerpted from your aptly chosen class quotation, "Let us first of all and before all be kind."
The transformative power of love, the evangelical power of love, is captured by St. Teresa when she says, "Love draws out love," and by St. John of the Cross, who advises, "Where there is no love, put love, and you will draw out love." Love is proved by deeds; we cannot love God and neighbor in words alone: "Little children," says St. John, "let us not love in word or speech but in deed and in truth."
We are called to serve God and our neighbor in the big things bearing on salvation and in the little things that arise in daily life. If you love and serve God, you will find Him in the events of your lives, just as St. John recognized Jesus when he cried "It is the Lord" at the Sea of Tiberias; if you love and serve others, they will find Christ in you, and you will have begun to be evangelizers.
As hostile as the world may be, as difficult as the work of evangelization may be, I urge you to go forth filled with courage and with hope, for we know Christ is with us even to the consummation of the world. We at the College have done our best to introduce you to the good, the true, and the beautiful. If you are to fulfill Our Lord's commission to "go and make disciples of all nations," it is now up to you to be good, to be truthful, to be beautiful and, last, but certainly not least, echoing the words of the Gospels and John Paul II once again, "to be not afraid."
Thank you and may God bless you.
---
Receive lectures and talks via podcast!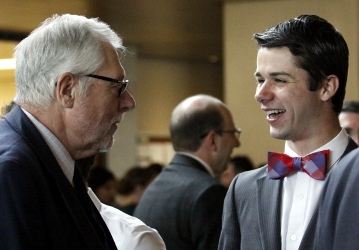 "The education at Thomas Aquinas College makes men free, able to direct their own lives, and that of the community."
– Laura Berquist ('75)
Founding Director of Mother of Divine Grace School; Author, Designing Your Own Classical Curriculum
"I am happy with the mission of Thomas Aquinas College and with the results spread through various countries in the world!"
– Most Rev. Lionginas Virbalas
Metropolitan Archbishop of Kaunas, Lithuania
CALENDAR
NEWS FROM THE COLLEGE