Posted: June 9, 2017
"You are Called to lives of Love and Service"
By Michael F. McLean, Ph.D.
Commencement Address, Trivium School
Lancaster, Massachusetts
June 3, 2017
Good afternoon and congratulations to you graduates and to your families.
Thank you to Headmaster Schmitt, the board, and faculty of Trivium School for your gracious invitation to address the Trivium Class of 2017.
Although I have never before been here, I feel a strong connection to Trivium: Many of your graduates have attended Thomas Aquinas College; I think I have taught many of them and a countless number of Schmitts; John Schmitt, the founder of Trivium, was a colleague of mine at Thomas Aquinas College in 1978, my very first year at the College. He was a wonderful mentor and educator. I learned much of what I know, or used to know, about Euclid from him, and for that I am very grateful.
Commencement is a time to look back and a time to look forward; a time to rejoice in what you have accomplished, and a time to chart a course for the journey ahead.
Looking back, you know better than I that your education at Trivium has been informed by the liberal arts and by the true, the good, and the beautiful.
In its nearly 40-year history, Trivium has remained faithful to three fundamental principles central to the proper understanding of genuine Catholic education:
total fidelity to the Magisterium of the Church
uncompromising commitment to the belief that a school partners with parents who are the primary educators of their children, and, finally,
commitment to the intellectual and moral formation of students in accordance with what is best in both the Catholic tradition and in the history of Western civilization
These principles place Trivium among a very select number of Catholic schools, schools completely worthy of the trust of Catholic parents. These principles have animated every activity of the school and have enabled you to make a good beginning in knowing the truth, in loving the good, and in delighting in the beauty both of God's creation and the intellectual and artistic works of man. You have begun to acquire the art of conversation — the art, so desperately needed in these times, of pursuing the truth together, in a spirit of charity and cooperation.
You have been given the opportunity to form deep and lasting friendships in the pursuit of wisdom as well as in athletics, drama, music, and Christian service. In so doing, you have enriched yourselves, your fellow students, your families, the friends of Trivium, and the broader community as well.
You have been given the opportunity to pursue the truth, armed with both faith and reason. Inspired by Holy Scripture and the great saints of the Church, you have been taught that Jesus Christ is the Truth and that God is the source of all truth.
You have, I hope, internalized the great commandment of Christ to love God and to love your neighbor and, I also hope, availed yourselves of every opportunity to express this love in school, in your families, and in your communities.
You and your families and friends should be proud of what you have accomplished. You have been part of a great and worthy endeavor, and a certain amount of proper pride is natural and justifiable. More than pride, however, you must cultivate a sense of gratitude for what you have received and humility about what you have accomplished.
The beautiful setting and the lovely facilities of Trivium have been gifts to you, as have the generous donations from many benefactors over your school's long and distinguished history. Last, but certainly not least, you have been the beneficiaries of the efforts of the religious, faculty, and staff here, as well as those of your families and loved ones, who have worked so hard and sacrificed so much on your behalf.
In your years here, you have surely received more than the widow's mite from God, your parents, your country, and your benefactors. Looking back at these gifts, I urge you to extend abundant thanks. Looking ahead to the gifts you will receive, I urge you to be grateful to those from whom you will receive much in the years ahead. Humility and gratitude are two virtues to which every Christian is called.
But in our time Christians are called to other virtues as well. In his recent book, Strangers in a Strange Land, Philadelphia Archbishop Charles Chaput points to tendencies within democracy itself to help explain the challenges which we Catholics face. He says, "to protect the sovereignty of individuals, democracy separates them from one another. And to achieve that, the state sooner or later seeks to break down any relationship or entity that stands in its way. That includes every kind of mediating institution, from fraternal organizations, to synagogues and churches, to the family itself. This is why Alexis de Tocqueville observed in Democracy in America that 'despotism, which is dangerous at all times, [is] particularly to be feared in democratic centuries'."
Archbishop Chaput continues, "Tocqueville saw that the strength of American society, the force that kept the tyrannical logic of democracy in creative check, was the prevalence and intensity of religious belief. Religion is to democracy as a bridle to a horse. Religion moderates democracy because it appeals to an authority higher than democracy itself."
Your Trivium education has given you a well-grounded religious faith. Appealing to this faith, Archbishop Chaput advises you and all young Catholics to approach the challenges of 21st century America with a spirit not of anger, frustration, or despair but with a spirit of clear judgment and love; a spirit of gratitude, thanking God for all the good in America, not just in the past, but today; a spirit of patience, recognizing that you're not going to win many of the culture-shaping struggles you will face — at least not in your own time, but only in God's time; and a spirit of prudence and practicality, doing what can be done rather than anguishing over what cannot.
In addition to faith, you should be animated by the gift of hope, which in Archbishop Chaput's words, "creates in us a desire for heaven and eternal life as our [true] happiness." You should be animated as well by a robust reliance on Divine Providence, "the understanding that God has a plan for each of your lives and for the whole world, and that … His plan is good."
You must remember that each of you is called by God to some particular work and to some particular station in life, and that, as Catholics, you measure yourself not so much by the nature of that work or the dignity of that station; not so much by the honors you receive or by the college you attend. Rather, you measure yourself by the fact that you answered the call and responded to God's will as He made it known to you in your particular circumstances. "Not my will, but Thine" is the teaching of Christ Himself.
This, I believe, has been a guiding principle of my school, Thomas Aquinas College. Helping the young, in Archbishop Chaput's words, "to learn to live and think as Catholics" is the work of Thomas Aquinas College, as it is the work of Trivium School. At my college, we were given a tremendous opportunity to do that work in California, and we have now been presented with an opportunity to do that work here in New England, work which we will do if we receive the approval of the Massachusetts Board of Higher Education. God seems to have opened a door here which He is calling us to walk through, for, we believe, as Archbishop Chaput wrote "that [today] we need to create places where Catholic culture can flourish and be handed down to the next generation."
As we embark on this project, we look forward to explaining to the citizens of Massachusetts the difference between "liberal Catholic education," which we don't practice at TAC, and "Catholic liberal education," which we do practice at TAC, and which you practice here at Trivium. Working closely with the National Christian Foundation, as we are in Northfield, we look forward, as well, to reminding folks that, contrary to popular belief, Catholics are Christians, too.
As graduates of Trivium, always remember the words of last night's play: "you can't take it with you;" in more contemporary parlance, you need to leave it all on the field. If you wish to heed Archbishop Chaput's call, you need to know that you are called to lives of love and service — to the families you may one day have, to your communities, to your country, and to your Church. You must also understand that Christian service may bring with it suffering and sacrifice. Remain close to Christ in prayer, and embrace these things joyfully when they come, just as Christ embraced His cross on the road to Calvary. As you make your way in life, continue always the pursuit of truth and virtue, keeping your hearts set on the final goal, ever mindful of the words of St. Augustine: "Our hearts are restless until they rest in Thee."
Heed the words of Archbishop Chaput: "What matters," he says, " aren't projects, programs, studies, procedures, committees, structures, synods, or plans … the only essential thing is to be a saint."
In this spirit, I urge those of you going on to college to find every opportunity to pursue courses or studies that will improve you as human beings and contribute to your happiness and well-being. Your Trivium education has whetted your appetites for the good, the true, and the beautiful. In college, you should continue the pursuit of wisdom. Having been involved in Catholic liberal education for close to 40 years as both a teacher and administrator, I can say without hesitation that carefully chosen college-level courses in theology, philosophy, logic, literature, composition, and history will benefit you immensely, bring you closer to God, and help you lead richer and more fulfilling lives.
Now, to summarize: response to God's call and submission to His will, lives of love and service, fearless acceptance of suffering and sacrifice, your hearts ever set on truth and virtue and God … these are sure ways to bring credit to Trivium, to imitate Christ, to grow in age and wisdom and grace before God and men, and, accordingly, to be the saints the Church needs today.
May God bless you, your families, your friends, and Trivium School.
Thank you.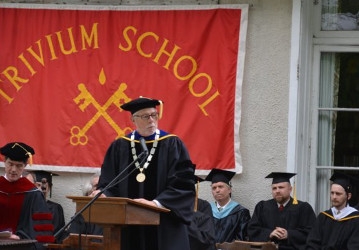 "In our classroom discussions, we are responsible for our own education. We have to get our hands dirty, to figure out the material, to let it become part of us and make us better people. That is real learning."
– Isabella Hsu ('18)
Redondo Beach, California
"Thomas Aquinas College is doing on the undergraduate level exactly what should be done. The College's alumni and alumnae prove that with this kind of education you can go on and do anything."
– Dr. Ralph McInerny (†)
Scholar and Writer
CALENDAR
NEWS FROM THE COLLEGE