Posted: May 2, 2017
"Giving New Life to Dwight L. Moody's Vision"
By Michael F. McLean, Ph.D.
President, Thomas Aquinas College
"The Northfield Celebration"
(event following New England Campus Transfer Ceremony)
Northfield, Massachusetts
May 2, 2017
Prepared text
It is with deep humility and a profound sense of gratitude that Thomas Aquinas College today accepts the gift of the Northfield campus from the National Christian Foundation. We owe special thanks to NCF Board members Emmitt Mitchell and Larry Edge for shepherding us through the grant-making process, to Steve and Julia Wiggin for their hospitality and patience as the process has unfolded over the past two years, and to our own Board and faculty for their advice and support as we contemplated the prospect of a second campus for Thomas Aquinas College.
We are grateful, too, to the citizens of Northfield and to the faculty and administration of Northfield Mt. Hermon School for the support and encouragement they have shown us as we prepared to take possession of this iconic property. We are mindful of the history and tradition of this place and of the formative role it has played in the lives of generations of students over the past 125 years.
We have great respect for the life and achievements of Dwight L. Moody and his wife, Emma Revell Moody. We have a sense of how much they labored and sacrificed to bring the Good News of Jesus Christ to thousands of people hungry for His words of mercy and consolation. We look forward to being good neighbors with The Moody Center and to supporting their efforts to preserve and advance D. L. Moody's great legacy.
Indeed, the gift of this campus from the National Christian Foundation to The Moody Center and to a Roman Catholic college presents us with a teaching moment, an occasion for a display of friendship and cooperation between evangelical and Catholic Christians and an occasion which will make it possible for all involved to more effectively fulfill the Great Commission and our calling to contribute to the evangelization of our culture.
We take this property grateful for its beauty and for the beauty of the Connecticut River valley. We intend to be good stewards as we return the campus to the use for which it was first intended — a school of modest size, offering a Christian, in our case Catholic, education of the highest quality to students from every economic background,  a school where students receive financial assistance, take jobs on campus, and help pay for their education, just as D. L. moody required at the Northfield Seminary, a school, as DL Moody prayed in 1879 at the East Hall dedication, "where no teacher may ever come … except as they have been taught by the Holy Spirit ..."
We are thankful for the beauty of its buildings, some of which, as many of you know, were "sung up" from royalties on the Moody and Sankey Gospel Hymns, others built by generous and sacrificial donations from people like Mary Billings French, Elizabeth Billings, Mr. and Mrs. Russell Sage, Helen M. Gould Shephard, George S. Palmer, Elizabeth G. Merrill, James Keep, Bertha Bristol Tracy, Donald Dolben, and David F. Bolger. While making use of these buildings, we intend to renew them over time. We intend to renew these buildings over time, and as our means allow, and we are deeply grateful for the investments in the campus being made by the National Christian Foundation now and by Hobby Lobby previously.
This day marks the beginning of a new chapter in the history of Thomas Aquinas College. Deeply committed to its mission of Catholic liberal education (not "liberal Catholic education" as one wag commented on Facebook recently), the College began humbly in 1971 with 33 students and four faculty members on a leased campus in Calabasas, California. Today, thanks to the generosity of many benefactors and to the Providence of God, the College has over 2,000 alumni — some of whom are with us today to mark this occasion — and a campus in the hills above Santa Paula, California, which has grown from a few trailers into one of the most beautiful in all of higher education.
Here in Northfield, thankfully, we'll be skipping the trailers and beginning with a campus of great beauty and promise. Contingent on the approval of the Massachusetts Board of Higher Education, we will start humbly here, too, in August of 2018 with 36 students and four faculty members, and gradually grow our enrollment to between 350 and 400 students, perfect for a campus of this size.
We will keep to our mission, educating our students in the best of the Catholic/Christian intellectual tradition, helping them make a good beginning in the broad range of the liberal arts, and introducing them to the greatest works of our civilization. As is the case in California, our classes will be marked by vigorous discussion and a fruitful exchange of ideas conducted in a spirit of openness, charity, and goodwill. As we have done in California, we will create a strong moral and spiritual community and prepare our students to serve well their communities, their country, and their Church.
The education we intend to offer here in the 21st century, pending the approval of the Commonwealth of Massachusetts, was well described in the 1889 edition of The Handbook of the Northfield Seminary and the Mount Hermon School, which quoted the words of St. Augustine: "The end of learning is to know God, and out of that knowledge to love Him, and to imitate Him as we may, by possessing our souls of true virtue."Augustine's words state well the goal of Thomas Aquinas College, and so with those words in mind we come full circle on the Northfield campus, back to the earliest years of the Northfield Seminary. We look forward, in our own way, to giving new life to Dwight L. Moody's vision for this campus, and to forging friendships with the citizens, and with the Catholic communities, of Northfield, the Pioneer valley, and all of New England. Trusting in God's providence, we will establish on this site a college which will be a beacon in higher education, a community of teachers, students, and friends of which we all can be proud.
Thank you.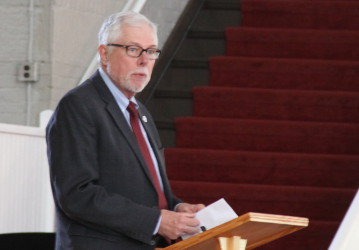 "The things we discover in the classroom, we recognize as true not because someone told us that they are true, but because we have reasoned to them for ourselves."
– Thomas Cavanaugh ('18)
Larkspur, California
"I am grateful to Thomas Aquinas College for educating new leaders for our Church, leaders who are grounded in their personal relationship and commitment to Jesus Christ."
– Most. Rev. George Niederauer
Archbishop Emeritus of San Francisco
CALENDAR