Posted: April 21, 2019
Please pray for the faithful of Sri Lanka, victims of a horrendous terrorist attack on this, the most sacred day of the Christian year. Please pray, too, for His Eminence Malcolm Cardinal Ranjith, Archbishop of Colombo and a friend of Thomas Aquinas College. Cardinal Ranjith served as the College's 2007 Commencement Speaker and received its highest honor, the Saint Thomas Aquinas Medallion.
In his homily at that day's Mass of the Holy Spirit, His Eminence spoke words that are particularly poignant in light of the Easter-morning attacks. "The tragedies that often happen in the lives of human beings, as well as of entire nations, are caused not because there is no love, but because we don't know how to love," he said. True love, he explained, can be seen in the paschal mystery. "This death and resurrection of Jesus has got to be lived by each and every one of us down the centuries, making that love of God become tangible to humanity. This is our mission. This is the continuation of the life of Christ in the world."
May the Lord of the Resurrection grant eternal life to the victims of Sri Lanka, may He console their families, and may He bring peace to us all.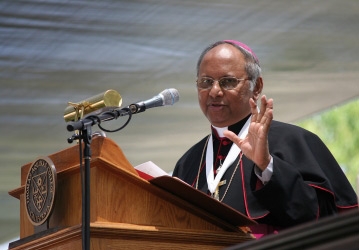 His Eminence Malcolm Cardinal Ranjith, Archbishop of Colombo, delivers the College's 2007 Commencement Address