Pianist Peter Serkin Plays Inaugural Concert for
St. Cecilia Hall
Posted: March 2, 2018
On the afternoon of Sunday, February 25, Thomas Aquinas College students, faculty, staff, and members of the Board of Governors and President's Council were treated to a virtuoso performance by Grammy Award–winning pianist Peter Serkin, who presented the inaugural concert for St. Cecilia Hall. Performing on a concert grand Schimmel piano, Mr. Serkin delighted his audience with his expressive renditions of Mozart's Sonata in B-flat major (K. 570) and the Adagio movement from his Sonata in B minor (K. 540). Following a brief intermission, he then flawlessly executed Bach's intricate Goldberg Variations, moving seamlessly between the more lighthearted variations and the more serious.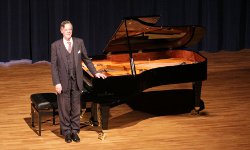 Peter Serkin Peter Serkin's rich musical heritage extends back several generations: His grandfather was the influential violinist and composer Adolf Busch, and his father the celebrated pianist Rudolf Serkin. A world-renowned classical pianist in his own right, with a repertoire that spans five centuries, Mr. Serkin has performed with some of the finest chamber ensembles and major symphony orchestras around the world, under the direction of the most celebrated conductors.
During his long career, Mr. Serkin has thrilled audiences from Carnegie Hall to the Kennedy Center, and in many famous venues abroad. It was, therefore, a great honor to have him inaugurate St. Cecilia Hall, the construction of which was made possible by a magnificent grant from the Fritz B. Burns Foundation and its trustees, Rex and Maureen Rawlinson and Cheryl Robinson.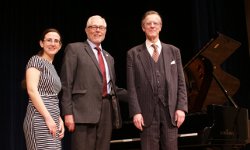 Nina Mires ('10), President Michael F. McLean, and Mr. SerkinThe 7-foot, 6-inch Schimmel K230 Konzert Tradition grand piano is a gift of Charles and Catherine Mires, parents of Nina Mires, Class of 2010. The College is deeply grateful to the Mires for this gift which will benefit generations of students in the years to come.
"I think about the entire world differently since I have come here. I have learned certain truths, whether in the natural sciences or philosophy, that I never would have imagined I could know."
– Kathleen Murphy ('16)
Cheshire, Connecticut
"I thank you so much for what you are doing at Thomas Aquinas College. I hope there will always be a Thomas Aquinas College. Your contributions to the Church and the world are marvelous to behold."
– John Cardinal O'Connor (†)
Archbishop of New York
NEWS FROM THE COLLEGE