Posted: July 12, 2017
by Laura and Tim Ristoff
As parents of young adults about to enter college, we often think we know what is best for our children. In our family, we definitely thought we knew what was best for our eldest son, Brandon. He would attend a well-known college, pursue a degree in engineering or business, and then move on to get his master's degree. As parents, we had it all planned — except this was not Brandon's plan.
Late in his junior year, as Brandon was walking across his high school campus, he noticed a fellow student in a Thomas Aquinas College sweatshirt, and the two struck up a conversation. The student described the College and its curriculum, and immediately Brandon was intrigued. He soon began a mission to learn as much as possible about the College. He pored over the website, read the college-guide reviews, and began to imagine himself attending this school that was so very different from what we had had in mind.
We initially pushed back: What would be his career path if he earned a liberal arts degree? What would he be giving up if he did not attend a "big name" school?
As summer approached we agreed that a campus visit was necessary. Much to our chagrin, as soon as he set foot upon the campus, he loved Thomas Aquinas College even more. You might even say he became obsessed with it. For the next several months, TAC was all that he would talk about.
Trying to be good, open-minded parents, we established some ground rules before a decision could be made. First, Brandon needed to sit in on some classes to really understand what the Discussion Method of teaching encompassed. Second, he needed to research the potential careers that would be open to him post-TAC.
Brandon made an appointment to come back to the campus in October, when school was in session, so as to observe a few classes — and his desire to attend the College only got stronger. Meanwhile, we also came to learn more about the College, and what we learned did much to relieve our anxieties.
When we mentioned TAC to friends, we were surprised and impressed with their knowledge and support for the College. We soon discovered the outstanding advantages of a liberal education — strong analytical and communication skills, plus the ability to look at ideas from different positions — and we were impressed by Thomas Aquinas College's unwavering commitment to our Catholic faith.
It soon became obvious that our son knew best!
Over the past four years Brandon has grown. He has become a deeper thinker, interested in learning and understanding different perspectives, and always wondering about the world around him. When he was in high school, he was often single-minded in thought and often not very flexible with regards to differing viewpoints. The College has encouraged within him a broader search for knowledge, truth, and understanding.
That search has led Brandon to Pepperdine University, where, starting next fall, he will work to earn a master's degree in public policy. With the great education and faith-filled community provided by Thomas Aquinas College, our son now understands his mission in life: to go out into the world and make it a better place, and to always do God's work, no matter where and how He calls you.
Watching Brandon's growth has even changed the way we choose employees for our consulting firm. Whereas we used to hire only candidates with engineering or financial degrees, we have recently begun to hire young men and women with a liberal arts background. We have come to see that liberally educated workers — who can ask questions, think critically, discuss matters intelligently, and write effectively — make for some of the best employees.
We are very proud of our son's decision to attend Thomas Aquinas College, and we are grateful to all the faculty, staff, and benefactors that have made this college such a great institution.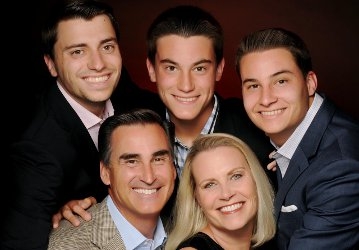 Laura and Tim Ristoff with their sons, Brandon ('17), Grant, and Cole
"Thomas Aquinas College was outstanding preparation for my future career. The great books curriculum hones critical-thinking and problem-solving skills that are absolutely essential every day in law school and as an attorney. To receive this education while also attending a school with a deep and profound Catholic culture was the most valuable college experience I could have had."
– Tim Cantu ('10)
Attorney, Pepple Cantu Schmidt
"I thank you so much for what you are doing at Thomas Aquinas College. I hope there will always be a Thomas Aquinas College. Your contributions to the Church and the world are marvelous to behold."
– John Cardinal O'Connor (†)
Archbishop of New York
CALENDAR
NEWS FROM THE COLLEGE