Posted: January 11, 2019
By Geoff Zwemke
I remember when Thomas Aquinas College first came onto our family's radar. It seemed like a mythical, faraway land where giants still walked the earth. From its first days in trailers to today's beautiful California campus, nestled in the hills, with its masterfully crafted curriculum built on great books and Socratic dialogue, its impressive alumni and supporters — it loomed large in our imaginations and hearts.
My wife and I were especially impressed with the "clans" sending their kids there: families solid in their faith, "epic" in their proportions of love, vibrancy, and number of children. Not perfect, but the kind of families you hope your own will befriend.
Soon after our own kids went off to the College, we began to see real growth and change in them, flowing from the sacramental life, from the joy of friendships with truly exceptional peers, and from living and breathing a truly Catholic and liberal (freeing) education. As parents, it has been a blessing to know that they are not only earning a college degree, but experiencing a four-year formation of their hearts, minds, and souls. We see in them and in the College's alumni that TAC prepares its students to launch successful careers and vocations, to live fulfilling and rich lives.
Those of us back at home — my wife, our four remaining children, and I — enjoy periodically "climbing the mountain" and visiting campus to spend time with our students and their wonderful friends, experiencing firsthand the blessings of this unique place. The high point of all our visits has been experiencing the Triduum and Easter weekend. Wow! In the liturgies, rites, and music, I felt like someone re-learning the vocabulary of a lost language. Majesty. Splendor. Reverence. Beauty. Glory!
After the three-hour Easter Vigil (yes, some of us did nod off), the Easter party started at 2:00 a.m. The food, friendship, and dancing lasted all night. And thanks to that party, Thomas Aquinas College is forever fixed in the mind of our six-year old son, Anthony. It's the place where he discovered the Fountain of Endless Soda, much to his delight. Truly a taste of the heavenly banquet for everyone!
But each time we visit TAC, we feel a drag on our minds and hearts when it's time to leave and return to the lowlands — for parents and kids alike. We don't ever want to leave.
The desire to stay makes me think of the Last Homely House, or Rivendell, in Tolkien's Middle-Earth books (not the movies). There's a certain quality, some intangible but powerful air that rests heavily on both places:
[Rivendell] preserved through many lives of Men the memory of all that had been fair; and was a refuge for the weary and the oppressed, and a treasury of good counsel and wise lore. (The Silmarillion)
The future, good or ill, was not forgotten, but ceased to have any power over the present. Health and hope grew strong in them, and they were content with each good day as it came, taking pleasure in every meal, and in every word and song. (The Fellowship of the Ring)
Maybe what we sense at both the College and Rivendell, even in their imperfections, is the truest and deepest reality that they point to: "For here we do not have a lasting city; we wait for a home that is yet to come" (Hebrews 13:14). Thomas Aquinas College is a place where none of us can linger overlong. We are all sojourners, and there's a ring of power that needs destroying. It's time we set out on the journey.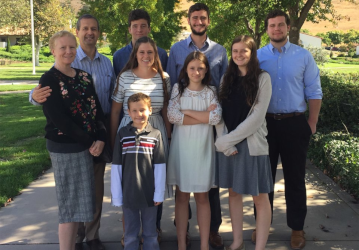 "I am deeply touched by the quality of the intellectual and spiritual formation that you offer. The study of philosophy should lead to a conviction that truth can be known, articulated, and defended. Your college shows that this is possible, and on a high level!"
– Rev. Wojciech Giertych, O.P.
Theologian of the Papal Household
NEWS FROM THE COLLEGE