Posted: June 21, 2017
"A Second Home"
By Isabella Hsu ('18)
Dear Mom and Dad,
I am writing this in our dorm kitchen. We're waiting for a pot of soup to boil. Siena is sitting on the ground strumming her uke; Gabby is singing and playing guitar next to me. I'm listening and looking out the window up at the last beams of light on the hillside. What a gift it is to have found a second home.
Four years ago things were so different. Then, Thomas Aquinas College was anything but home. Mom, you were driving us up Ojai Road to a school we knew nothing about, and we were all against you. I remember looking it up when we were pulling into the parking lot, "No textbooks? Dress code? Catholic?" The words were foreign and frightening for all of us. Our secular, California public education had never presented us with anything like TAC; but, at the same time, it had left each of us with a deep hunger for more — for something substantial, for something true.
Now, years later, we've discussed that moment with one another time and again. Each one of us was struck. We got out of the car and gazed up at Mary from her place atop the Chapel, surveying the whole campus. It could have been the summer heat that made us swoon, or maybe it was something else. We had no idea of the significance of this, our first meeting.
Needless to say, the drive home was markedly different. We — and you, I think — were in love.
Dad, you might not have been there with us, but you were as much in love with the school as we were after our tour. You carried the news of it to everyone you knew. Even though peers and high school counselors balked at our choice of a tiny, private, non-specialized college, you never once made us feel doubtful of our choices.
We were all struck by how wholeheartedly — and quickly — you embraced the school we were all starting to love ourselves.
As we've progressed through the program, that love has only increased. Siena and I are starting — with much excitement and many late-night conversations — to think of thesis topics for our upcoming Senior Year. Gabby has made it through Kepler and Ptolemy and is reading and re-reading everything with her usual voracity. I have found much consolation in reading St. Thomas Aquinas this year. Surprisingly I read it in Latin — I know, who would have thought? His insights on God have piqued my imagination and understanding and deepened my love.
These past few years I've seen profound changes in my life. I've found deeper peace, so much gratitude that I don't know what to do with it, and possibly the greatest fruit of this education: a delight in wisdom, although I make no claim to possess it.
We're so grateful to share our lives with you with every weekly phone call and the occasional surprise visit home. What a joy it is to share both the parts of us you've known and nurtured for 20 years, and those parts we're only now beginning to know ourselves. You've been there equally for the stress-filled phone conversations at 12:00 a.m. as for those filled with excitement — and possibly lots of philosophical jargon as well. And most impressive of all, you've enjoyed every minute.
You two don't just support us, but you take joy with us in all we experience here.
With love and gratitude,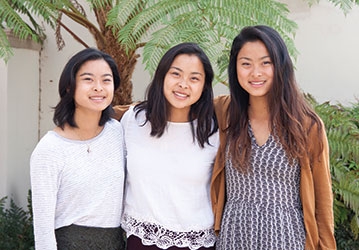 Gabby ('19), Isabella ('18), and Siena ('18) Hsu
"Thomas Aquinas College's best asset is its ability to make faith part of everything. It permeates the social life and the academic life."
– Pete Colarelli ('92)
First Ward Alderman, Lockport, Ill.
"The students that have had an opportunity to be part of the life of the College have been enriched by their experience in an environment conducive to achievement. Now in all walks of life, graduates of Thomas Aquinas College are contributing, by following a wide variety of pursuits, to the betterment of society."
– Renato Raffaele Cardinal Martino
President, Pontifical Council
for Justice and Peace
CALENDAR
NEWS FROM THE COLLEGE