Posted: January 31, 2020
by Rev. Joseph Koterski, S.J.
Associate Professor of Philosophy
Fordham University
Homily from the St. Thomas Day Mass
Thomas Aquinas College, New England
January 28, 2020
Blessed feast day. I'm very happy to be here with you in this beautiful first year on this beautiful new campus.
On this Feast Day of St. Thomas, the Church sets before us readings from the Book of Wisdom, as well as this passage in the Gospels precisely about wisdom — very important in themselves. It takes my mind back to what we know about the canonization of Saint Thomas.
Maybe you know this story, but it's good to rehearse it. When there was a movement afoot, understandably, among the Dominicans to see this great master of theirs canonized, they were deeply enthusiastic, but they had to deal with a great deal of suspicion. In the medieval university world, in medieval theology, there was not complete agreement. There was, in fact, deep worry about Master Thomas precisely because he had dipped so deeply into the well of pagan thinkers like Aristotle, who had been suspect for generations. The mainstream of the university community had an Augustinian theology.
There were many disagreements, many fights. I must admit that, as I have come to understand St. Thomas, he was wise in the ways of politics as well as wise in the ways of God. But nonetheless there was great opposition, and so the Dominicans who sought to have him canonized were doing so at about the same time that Francis was being canonized. And with Francis there was a tremendous amount of delight in all of his comings and goings, in all of his wildest doings. It aroused the enthusiasm and the imagination of everyone.
But the iconography that was used as they were urging the Pope and persuading the Church for St. Thomas' canonization — the iconography is all of a piece for Thomas. It shows no unusual deeds; it shows no extraordinary adventures. All of the iconography is in the form of Thomas Aquinas holding one or another of the books of wisdom. He's always seated, and he is always in the posture of Our Lady Seat of Wisdom, not only because he loved her but because in that posture, an immediately recognizable symbol, what we had was a magisterial teaching; the Blessed Mother is teaching, holding her Son — and the Son is the Word of God, Whom she gave to the world. The Dominican iconography of Thomas shows him in her posture, holding either the book of Sirach or the Wisdom of Solomon.
One of the great themes of Thomas is that it is a mark of the wise to set forth order, much as he did in his theology, much as he did in some very practical ways in service of King Louis. It is the manner of the wise man to set forth things in proper order. The Church honors this in the readings that are chosen, particularly the passage this morning, which is from the Book of Wisdom. Perhaps you have had the chance to read and study it — very much worth the time. It has three parts, all of them set in the persona of King Solomon, who lived 1,000 years before. They are set in the mouth of Solomon, who is so much the embodiment of wisdom — not only from the story of how to deal with two women complaining that one of their babies was dead, and one of their babies was living, and both wanted the living child, and so Solomon wisely devised a test that ascertained whose child it was — but also in many other instances of wisdom.
And though as a king he was very sinful, in the book the Wisdom of Solomon from which this comes, the first five chapters are a wonderful account — one of the earliest in the Old Testament, late in the book as it is — one of the earliest portrayals of immortality of the soul. For he chose a group of Jews who were martyrs for Torah observance, and then they suddenly wake up after their death, and they who had been persecuted are now the judges of those who were their persecutors. The second part — again in the voice of Solomon — is a conversation he has with his fellow kings of the earth, and they are asking, "How did you get the wisdom for which you are so well known?" And he explains that it was not simply by a natural endowment, not simply by hard work, but that it came by way of prayer — that he prayed for wisdom, and it was given. And then he proceeds to teach them how to pray by describing the attributes of Wisdom, recapitulating earlier efforts in Proverbs and in Sirach. But he shows them how to pray for it, and then the last half — from Chapter 11 to Chapter 19 — he shows how God's providential wisdom has saved the people. It's sort of an everyman's reading of the whole of creation, not mentioning that those are the names, but showing how divine providence was at work in every generation. The part we have here that shows it especially is his prayer, his explanation:
I prayed, and prudence was given me. I pleaded, and the spirit of wisdom came to me. I preferred her to scepter and throne, and deemed riches to be in comparison nothing with her, nor did I liken any precious gem to her.
It's not an excuse for not having done the work he needed to do, but a simple a profession of his faith in thanksgiving that he had needed divine guidance and help. And then he proceeds at great length, part of which we have here, to the description of Wisdom:
I chose to have her rather than the light, because the splendor of her never yields to sleep. Now God grant my speech suitable, and value these endowments of her worth. For He is the guide of wisdom, and the director of the wise. Both we and our words are in His hands, as well as prudence and knowledge of facts.
It is an invitation, I think, through the Scriptures, on this Feast of Thomas, to do as he did. Not only to work as hard as he did, but especially to pray for the wisdom to see it aright, and especially the wisdom to use it well: to use it in the service of God's people, in the service of our country, in the service of those where God puts us; even as Thomas used it in very diverse circumstances in his life, the speculative and the theoretical and the deeply practical where deep prudence was needed. But he had confidence — not simply confidence in his own abilities — but rather was able to do it with confidence because he knew of the grace that was in store for him. And we would do well to pray for that for ourselves. 
Streaming & downloadable audio
---
Receive lectures and talks via podcast!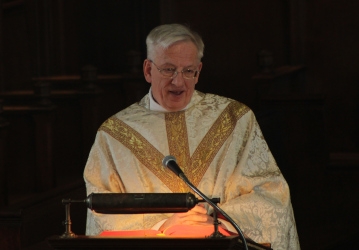 "I think about the entire world differently since I have come here. I have learned certain truths, whether in the natural sciences or philosophy, that I never would have imagined I could know."
– Kathleen Murphy ('16)
Cheshire, Connecticut
"I admire this college and your faithfulness to the Church's mission for higher education and the New Evangelization."
– The Most Rev. José H. Gomez
Archbishop of Los Angeles
CALENDAR
NEWS FROM THE COLLEGE