Posted: August 16, 2017
"One of the greatest joys we experience on the Board is confidence that the Faith is lived, taught, and discussed daily by our students," says Bernarda Neal, a member of the Thomas Aquinas College Board of Governors.
For many graduates, the transition to life beyond the confines of the campus — where the Sacraments and spiritual direction may not be as readily available, and opportunities to study and discuss matters of faith are more rare — can be disheartening. To ease this transition, Mrs. Neal and her husband, Robert, have blessed the College's newest graduates with an invaluable spiritual gift: a free subscription to Magnificat.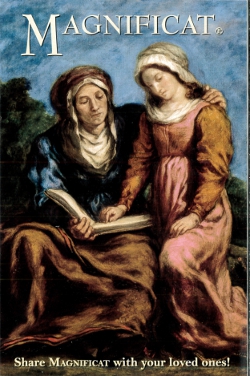 The monthly publication — which features the complete Mass readings for Sundays, weekdays, and feast days; daily reflections on the Gospel; and inspirational stories from the lives of the saints — will aid members of the Class of 2017 in their post-graduation prayer and contemplation. "The Magnificat book is simple and powerful in its premise," explains Mrs. Neal, a board member and executive vice president of the Magnificat Foundation. "Through prayer, one can develop a more profound love for Christ."
The Neals made the gift of the Magnificat subscription on behalf of the entire Thomas Aquinas College Board of Governors. They also extended their generosity to all members of the College's faculty and staff. "What a gracious gift," observes Director of College Relations Anne Forsyth. "Mr. and Mrs. Neal are performing numerous spiritual works of mercy, providing instruction, counsel, and comfort to us all. We are very grateful for their constant, loving concern for the College, our students, and our alumni."
It is the hope of the Governors, says Mrs. Neal, that "the graduating seniors will venture forth into the world, armed with Mary's example, Magnificat."
"Thomas Aquinas College has always been thoroughly Catholic in its identity. It's an outstanding program of studies, founded on a loyalty to the Chair of Peter and to the Magisterium of the Church."
– Raymond Cardinal Burke
Prefect, Supreme Tribunal
of the Apostolic Signatura
CALENDAR
NEWS FROM THE COLLEGE