Posted: May 23, 2017
Note: Mother Agnes Mary Donovan, SV, Superior General of the Sisters of Life, served as Thomas Aquinas College's 2017 Commencement Speaker. The previous evening, she attended a dinner held in her honor with the College's Board of Governors, at which she delivered the following remarks.
It is an honor. While I have only been at Thomas Aquinas College for two hours one Sunday afternoon, years ago, and today; I have followed for years the wonderful works which are accomplished here at TAC. I feel here, among you, a very great solidarity. There is spirit of energy and initiative and a willingness to follow the wild ways of God here at Thomas Aquinas, that we, too, live with within the Sisters of Life.
Allow me to share with you a thought about a poem that was beloved by [our founder John Joseph] Cardinal O'Connor, and one that he shared with the Sisters. It speaks of the mystery of "the 26th day." March 25th is the Feast of the Annunciation of the Angel Gabriel to Mary, and Mary's consent to receive the astounding invitation to allow God to become man. But the day after, the 26th, is what we Sisters of Life call "Poem Day," based on a poem [by Redemptorist priest Fr. John Duffy] entitled "The Annunciation." It images Mary, in the day after the visit from the angel, reflecting upon the reality that with her consent, she has become the Mother of God!
I think you at Thomas Aquinas College are living the grace of "the 26th day."
So if you don't mind, I will read just a few lines from that poem. It begins like this:
And was it true, 
The stranger standing so,
And saying things that lifted her in two,
And put her back before the world's beginning?
Her eyes filled slowly with the morning glow.
Her drowsy ear drank in a first sweet dubious bird.
Her cheek against the pillow woke and stirred
To gales enriched by passage over dew,
And friendly fields and slopes of Galilee
Arose in tremulous intermixture with her dreams,
Till she remembered suddenly ...
…. That someone came, and took in hand her heart,
…. Never again would she awake 
And find herself the buoyant Galilean lass,
But into her dissolving dreams would break
A hovering consciousness too terrible to pass —
A new awareness in her body when she stirred,
A sense of Light within her virgin gloom:
She was the Mother of the wandering Word, 
Little and terrifying in her laboring womb.
And nothing would again be casual and small,
But everything with light invested, overspilled
With terror and divinity ….[1]
This is Mary's story, and it is ours, too. It is yours here at Thomas Aquinas, and it certainly is ours, the Sisters of Life. Both of our initiatives, which I believe were born of God, are seeing a moment of great growth. We have heard stories this evening of your venture out east, and of how God seems so clearly to be opening doors and windows for the expansion of the gift of a classical education to many more young people. And we, too, are expanding our missions — opening a convent this summer in Philadelphia, and two new apostolic centers (one in New York and one in Toronto) — and enlarging our Mother House to be able to receive increasing numbers of novices.
And so I say to you, and to ourselves, in these "26th days," as we live the fulfilment of the "yeses" we have made: Let us be faithful to the promptings of the Holy Spirit. May we all be blessed. Thank you.
---
[1] Fr. John Duffy, CSsR, "The Annunciation," in I Sing of a Maiden: The Mary Book of Verse edited by Sr. Mary Therese Lentfoehr (New York: Macmillan, 1947), 351-2.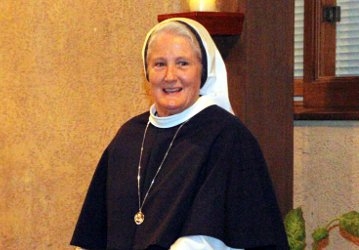 Mother Agnes Mary Donovan, SV
CALENDAR
NEWS FROM THE COLLEGE