Posted: December 17, 2019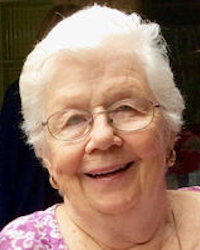 Please pray for the repose of the soul of Winifred Catherine Buckley of Redwood City, California. The sister-in-law of Chaplain Rev. Cornelius M. Buckley, S.J., Mrs. Buckley was a longtime friend and benefactor of Thomas Aquinas College. She passed away on December 6 at the age of 89.
Mrs. Buckley is predeceased by her husband of 56 years, James A Buckley, M.D., with whom she had 12 children and 28 grandchildren. A daily communicant and a talented singer, she served her parish for many years as a lector and cantor. She was president of the Bellarmine Preparatory School Mothers Guild, a volunteer at Sequoia Hospital, and a bilingual substitute teacher. She also held a teaching credential from Dominican College in San Rafael, California, and sang with the Masterworks Chorale.
As members of the President's Council, the Buckleys were faithful benefactors of Thomas Aquinas College. In recent years, Mrs. Buckley was particularly supportive of the Fr. Buckley Scholarship Fund, which, in honor of her beloved brother-in-law, helps to provide financial aid for the College's students.
Services will be held at Our Lady of Mt. Carmel Catholic Church, 300 Fulton Street, Redwood City. Family and Friends are invited to visit after 6:00 p.m. on Wednesday, December 18, and attend a Vigil at 7:00 p.m. A Funeral Mass will be offered on Thursday, December 19, at 10:00 a.m.
Eternal rest grant unto her, O Lord,
and let perpetual light shine upon her.
May the souls of all the faithful departed,
through the mercy of God,
rest in peace.
"Thomas Aquinas is already the preeminent Catholic college in the country."
– John Cardinal O'Connor (†)
Archbishop of New York
(1999)
NEWS FROM THE COLLEGE