Posted: January 16, 2017
Although best known throughout the world as the author of The Exorcist, William Peter Blatty, who passed away last Thursday, is remembered at Thomas Aquinas College as a dear friend and generous benefactor with a great love for Catholic liberal education. "Bill had a deep faith, which manifested itself both in his work and in his support of the College," says President Michael F. McLean. "He was keenly aware of the spiritual warfare that surrounds us, as well as its eternal implications for each of our souls."
The son of Lebanese immigrants, Mr. Blatty was born in New York City in 1928. His family was nearly always destitute — forced to move dozens of times because it was unable to make its rent payments — yet buoyed, he said, by his mother's deep faith. "My mom kept us going," he told The Washingtonian. "It was the power of her faith and conviction that God would eventually make everything right. It just flowed out of her onto everything that she touched."
It was also his mother's perseverance and support that led him to what he would call his "first home," both physically and intellectually, at Georgetown University, where he enrolled with a scholarship in 1946. Studying philosophy and theology via the great works of Western civilization, he came to more deeply understand the Faith that his mother had passed on to him, while also developing the writing skills for which he would one day become famous. In the acknowledgments for The Exorcist, published 20 years after his graduation from Georgetown, he thanked his Jesuit instructors "for teaching me to think" and an English professor, Bernard Wagner, "for teaching me to write."
Before becoming a novelist and screenwriter, however, Mr. Blatty worked for a number of years in various other professions: as a vacuum-cleaner salesman, a beer-truck driver, a member of the Psychological Warfare Division of the U.S. Air Force, an editor for the U.S. Information Agency, a publicist for the University of Southern California, and a ghostwriter for "Dear Abby," AKA Abigail Van Buren. He then came to Hollywood and found success writing comedies, most notably the 1964 "Pink Panther" film, A Shot in the Dark.
In 1970 he wrote the novel The Exorcist, inspired by a real exorcism that he learned about while a student at Georgetown. "Like so many Catholics, I've had so many little battles of wavering faith over the course of my life," he once told IGN.com. "And when I heard about this case and read the details, that seemed so compelling. I thought, 'My God, if someone were to investigate this and authenticate it, what a tremendous boost to faith it would be.' I thought, 'Someday I would like to see that happen. You know, I would like to do it.'" In later years, he would describe the book as "an argument for God" and "an apostolic work, to help people in their faith." Its central point, he said, echoing the words of his mother, was "that God exists and the universe itself will have a happy ending."
The book proved to be a critical and popular success, finding its way on to the New York Times Bestseller List, where it spent 57 weeks, and ultimately sold some 13 million copies. Mr. Blatty also wrote the Academy Award-winning screenplay for the novel, and the resulting 1973 film was the first-ever horror movie to be nominated for Best Picture, grossing more than $400 million in worldwide sales. In subsequent years, Mr. Blatty would pen numerous other novels and screenplays, including The Ninth Configuration and The Exorcist III.
Mr. Blattys' relationship with the College began in the late 1990s, when he first learned about the school in a magazine advertisement. Disaffected with his alma mater for its drift from Catholic orthodoxy, he appreciated that Thomas Aquinas College offered an education so like the one he had experienced a half-century earlier. In 2002, Mr. Blatty launched the Peter Michael Blatty Memorial Scholarship Fund with a $100,000 gift to the College.
"Decades ago I had established a scholarship fund in my mother's name at my alma mater," he wrote in a letter to Dr. McLean. Now he would do the same, in memory of his father, "at your truly magnificent school, one I wish I myself had attended." Over a dozen years, he and his wife, Julie, have contributed more than $400,000 to the fund, which provides financial aid to needy students.
"As a scholarship student himself, Bill was grateful for the gift of Catholic education in his life, which he generously chose to pass along to our students," says President McLean. "We pray now for the repose of his soul, as we know he would want us to do, as well as for the consolation of Julie and their family.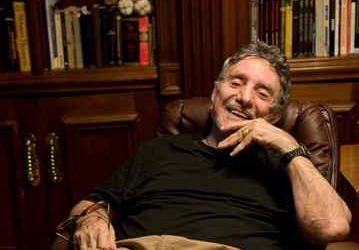 William Peter Blatty (1928 – 2017)
"The things we discover in the classroom, we recognize as true not because someone told us that they are true, but because we have reasoned to them for ourselves."
– Thomas Cavanaugh ('18)
Larkspur, California
"I am full of admiration for what the College, its founders, its leadership, its faculty and staff, and its students and alumni have achieved."
– George Cardinal Pell
Archbishop of Sydney
CALENDAR
NEWS FROM THE COLLEGE