Posted: October 6, 2017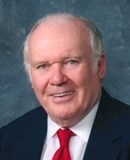 Please pray for the repose of the soul of Patrick Joseph Hart, Jr., a faithful friend of Thomas Aquinas College who died on September 29.
A graduate of  the University of Notre Dame, a veteran of the U.S. Army, and a Knight of the Order of Malta, Mr. Hart was a longtime resident of Palos Verdes Estates, California. As a devoted parishioner at St. John Fisher Catholic Church, he served on the Adult Education Board, the Capital Campaign Committee, the RCIA program, and the Moral Reasoning Program, dedicated to the study of St. Thomas Aquinas as a framework for moral issues. He was also, for the last 12 years, a loyal benefactor of Thomas Aquinas College — serving on the Orange County Board of Regents, contributing faithfully each year as a member of the President's Council, and remembering the College in his estate plans through the Legacy Society.
"A true disciple of St. Thomas, Pat Hart attended and actively participated in a number of the College's seminars," recalls President Michael F. McLean. "He was a generous benefactor who encouraged us every step of the way, was a lover of wisdom, and a loyal son of the Church. He was a fine example to me and to all who knew him."
Please pray also for the consolation of Mr. Hart's surviving family, especially his five children and seven grandchildren.
Eternal rest, grant unto him O Lord, and let perpetual light shine upon him. May his soul and all the souls of the faithful departed rest in peace. Amen.