Posted: February 20, 2020
Please pray for the repose of the soul Frances O'Connor Hardart, a longtime member of the Thomas Aquinas College Board of Governors, who died on February 19.
"Frannie Hardart served on our board for 14 years," says President Michael F. McLean. "She loved the College's educational program as well as its commitment to the Catholic faith, and she believed that our graduates offered great hope for the future of the Church and the country. She remained a close friend of the College and a generous benefactor even after her retirement."
A native of Waterford, N.Y., Mrs. Hardart served as a member of the Board of Directors of her family's business, Mohawk Fine Papers, Inc. She held a bachelor's degree from Manhattanville College of the Sacred Heart and studied art history at the University Firenze, Italy. In 1961 she married Dr. Frank Hardart, Jr., a distinguished obstetrician at St. Vincent's Hospital and Medical Center in Manhattan. The couple was blessed with six children: Frank III, George, Richard, Marie Therese (Tracie), Christopher, and Michael, as well as 12 grandchildren.
In 1979, both Dr. and Mrs. Hardart were invited to become members of the Equestrian Order of the Holy Sepulchre of Jerusalem. In 1986, Mrs. Hardart became a Dame in the Sovereign Military and Hospitaller Order of St. John of Jerusalem of Rhodes and of Malta (Order of Malta), American Association U.S.A., later serving on its Board of Councilors and holding the position of Hospitaller. She held numerous positions for the Order over the years and participated in many pilgrimages to Lourdes.
Dr. Hardart retired from practice in 1990, the same year that he was diagnosed with ALS (Lou Gehrig's disease), and passed away in 2000. It was during this trying time that the couple met Dr. Thomas E. Dillon, then-president of Thomas Aquinas College, and began enjoying many wonderful visits with him, his wife, Terri, and other members of the College community. Mrs. Hardart had long been thinking about adopting a faithfully Catholic institution and becoming one of its "spiritual alumni." Learning about the College and visiting with its enthusiastic president convinced her that she had found the right place.
When the Hardarts were asked to help in the construction of St. Thérèse of Lisieux Residence Hall, it was as if they were receiving a special affirmation of their conviction: Their only daughter was named for the "Little Flower," whom they considered, with prayerful respect, a lifelong friend of the family. The Hardarts responded to the request with a generous gift for the building project.
Not long after her husband's death, Mrs. Hardart was offered and accepted an invitation to become a member of the College's Board of Governors. She faithfully served in that capacity until her retirement in 2014, at which point the Board granted her emerita status in honor of her many years of exemplary work.
"Frannie's faith, hope, and charity were an inspiration to me and to all who knew her," says Dr. McLean. "I will miss her zeal for Christ and her advice and counsel very much."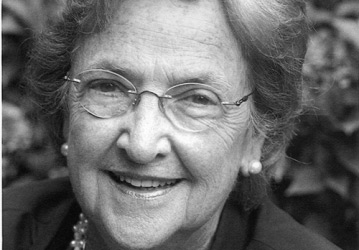 "Thomas Aquinas College is doing on the undergraduate level exactly what should be done. The College's alumni and alumnae prove that with this kind of education you can go on and do anything."
– Dr. Ralph McInerny (†)
Scholar and Writer
NEWS FROM THE COLLEGE