London Schola Offers Musical Oratory in California Chapel
Posted: July 25, 2019
On Wednesday evening, members of the Thomas Aquinas College community — including some 120 students on the California campus for the High School Summer Program — were treated to a musical oratory in Our Lady of the Most Holy Trinity Chapel, courtesy of the Schola Cantorum of the London Oratory School.
A musical oratory is a service of prayer and music developed at the first Oratory Church in Rome. Bl. John Henry Newman brought the Oratory to England, establishing a community in Birmingham from which the London Oratory was founded. The London Oratory School's Schola has recorded numerous soundtracks, including the Lord of the Rings and Harry Potter films, as well as CDs and programs for television and radio. In 2013 the Schola sang at High Mass in St. Peter's Basilica and was the first-ever visiting choir to sing at Vespers there.
The Schola's visit to Thomas Aquinas College was part of its current tour of the Western United States, which includes stops in Salt Lake City, Orange County, and San Francisco. The oratory consisted of meditations from the College's head chaplain, Rev. Paul Raftery, O.P., about Our Lady, the Blessed Sacrament, and penitence and redemption. After each meditation, the Schola sang an appropriate hymn from its Sacred Treasures of England album. It concluded with a sung Compline, the final service from the daily Divine Office.
"The music was so beautiful, it gave me goosebumps," one student declared, echoing a sentiment shared by all present.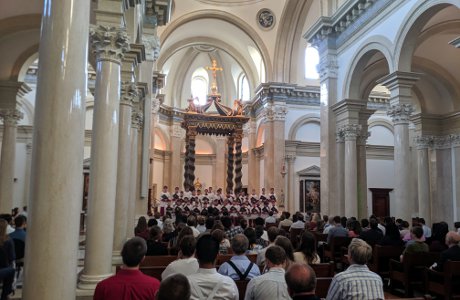 "I am happy with the mission of Thomas Aquinas College and with the results spread through various countries in the world!"
– Most Rev. Lionginas Virbalas
Metropolitan Archbishop of Kaunas, Lithuania
CALENDAR
NEWS FROM THE COLLEGE