Posted: May 11, 2020
A Residential Director's Letter to the Students of Thomas Aquinas College
by Mary-Catherine Froula ('19)*
"It is within our power to transform our deserts of isolation into fruitful gardens of solitude."
Dear Students,
One of the many goods arising from the inconveniences of our current restrictions is that we have more of an opportunity to reflect on certain ideas and questions that may never have occurred to us otherwise. One of these ideas that I have been entertaining recently is the difference between solitude and isolation.
The Dominican scholar A.G. Sertillanges, in his book The Intellectual Life, which I highly recommend as a guiding light for anyone who undertakes the journey of pursuing Truth, devotes a beautiful section of his work to praising the fruits of solitude. He includes a piece of wisdom from the Imitation of Christ by Thomas à Kempis, who says: "I have never gone amongst men without coming back less a man." Sertillanges comments: "If the words of the Imitation are true, you will be more a man and more with men when you are far from them. In order to know humanity and to serve it, we must enter into ourselves, where all the objects we pursue are together in contact, and get from us either our strength of truth or our power of love" (Ch. 3, section II).
This might seem counterintuitive at first, since man is by nature a social animal, but in the greater context of the chapter it becomes clear that the author is not denying man's social nature so much as advocating solitude as a means for true social flourishing. "In the crowd one loses one's identity, unless one keeps firm hold of oneself, and this hold must first be created. In the crowd, one has no self-knowledge, being burdened by an alien self, that of the multitude" (Ch. 3, section II).
We were created for community and to contemplate God in a multitude, but we can only be a part of that joyful whole if we possess ourselves first in the individual unity of self-knowledge and self-command. This is something we can only achieve through retreating into ourselves and spending time away from the noisy activity of daily life.
This principle poses quite a challenge for the young intellectual, doesn't it? It's especially difficult in the collegiate stage of life, when the world seems so fresh and new and stretches invitingly before us with seemingly endless possibilities. One of the most delightful of these possibilities is the prospect of encountering souls who change our lives and bring us a joy we could never give ourselves. I must admit that, as a student, when the going was particularly rough, sometimes this joy, as well as the grace of God, was the only thing that motivated me to continue my studies. But while it's a beautiful blessing to fall back upon, it should never be our primary motive in the life of learning. The academic community is accidental to academia itself. The proper end of a student is union with Wisdom, his Creator, and not union with His creatures. Their friendship and solidarity are indispensable means of support, but support for a higher mission that, at a certain point, must leave them behind if the student is to truly recollect in silence and tap into his inner light.
It might seem cruel to subject the youth to solitude when they are most inclined to be social, even for the sake of a greater good. But I think it only seems cruel if we confuse solitude with isolation, when they in fact have opposing ends.
Isolation is an intentional, selfish separation from people for the express purpose of avoiding them. Those who isolate themselves seek to be alone because they wish to languish passively in an interior palace where only their egos can reign without the interference of any other being. In The Four Loves, C.S. Lewis describes the cold, dark, meaningless existence of the egoist who has no charity because his only love is for himself: he shuts himself away from society with all of his little luxuries and comforts, to rot away in a palace which, he tragically discovers too late, is only a desert of death.
However, the charitable pupil of Truth seeks solitude, not to separate himself from his fellow man, but primarily to seek union with Wisdom so that he may distribute this Wisdom to others. He desires to be alone not as an end in itself, but as a means of fulfilling his vocation to see the Truth so that he can bring others to this vision. Those who dwell in solitude find true peace because they have oriented themselves in relation to others according to the arrangement of the Divine Order. If man is to attain full, perfect, peaceful union with his fellow members of humanity, his own members must first attain this peaceful unity. His body, soul, heart, and mind must be of one purpose and must act according to their different capacities for fulfilling that purpose, which is marriage with the Truth. Our physical, intellectual, emotional, and spiritual faculties will only malfunction if we direct them toward anything but the realization of this end. Solitude is the only kind of sanctuary where we can attune them to this realization. Far from being a selfish escape from reality, it is rather a portal to the only True Reality we were created for.
In these difficult times many of us are experiencing the pain of separation from those we love, and are at least physically isolated from everyone in the world besides the members of our own household. But it is within our power to transform our deserts of isolation into fruitful gardens of solitude. May God give all of us the grace to retreat into ourselves so that we can listen to the gentle promptings of the Holy Spirit, who whispers to us in the inner citadel where only Christ reigns as King, and to drink from His font of Wisdom so that everyone we love can one day benefit from this same nourishment.
God be with you all until we meet again,
MC
* Mary-Catherine Froula ('19) is a residential director at Thomas Aquinas College, New England.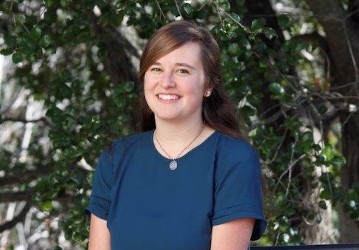 "The education teaches you how to think in a structured, ordered fashion. In modern medicine … that is very helpful."
– Major Paul W. White ('95)
Vascular Surgeon, U.S. Army Medical Corps
"Thomas Aquinas College is a small college, but its reputation has spread far and wide. Because it lives off the masterpieces of thought and literature emanating from the Christian tradition of the Western world, it provides a first-rate education for a select body of talented undergraduates."
– Avery Cardinal Dulles, S.J (†)
CALENDAR
NEWS FROM THE COLLEGE