Posted: December 7, 2018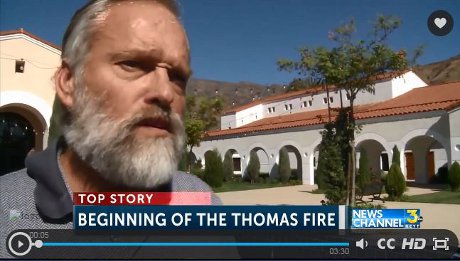 As part of a series of reports marking the one-year anniversary of the Thomas Fire, KEYT News 3 has produced a video about Thomas Aquinas College and how, by God's grace and the efforts of many, the California campus survived the blaze largely unharmed.
"When I was awakened at 2:00 a.m. in the morning that entire hillside was on fire," President Michael F. McLean recalls. "I have this vivid memory of the fire burning up from the west through the creek bed." He goes on to describe that night's evacuation — "The students, God bless them, did a wonderful job getting off campus, some of them without their shoes, cell phones, wallets" — and his own decision to remain on campus: "I decided to stay," he says. "I think it's partly my background as a Coast Guard officer, and I sort of had in mind the idea that the captain stays with the ship."
The video culminates with reporter Beth Farnsworth poignantly saying, "By sunrise, through heavy smoke, not one life or building was lost; it was evident the campus had survived" — as the camera pans to the statue of the Blessed Mother atop Our Lady of the Most Holy Trinity Chapel.