Posted: January 15, 2018
A lengthy Catholic World Report story about the upcoming Walk for Life West Coast features the testimony of Joe Daly ('19), who talks about the extensive role that the College's students play in the event each year:
One of the young people planning to attend the Walk is Joe Daly, a junior at Thomas Aquinas College (TAC) in Santa Paula, California. Daly is helping coordinate participation by students and staff from the college, who turn out annually in large numbers. This will be his third Walk; he calls his previous experiences at the event "fantastic." He expects about 200 students to come this year, more than half the TAC student body.
TAC students have an important role at the Walk, according to Daly. "Our students hold the perimeter in order to prevent protesters from breaking into the Walk and causing chaos," he explained. "There are always dis-unified clumps of protesters lining parts of the sidewalks who wave signs and angrily shout and chant ugly things at the people walking."
Students also help "set the tone," Daly said. "We do that through song." In response to angry shouts and chants from counter-protesters, he said, "we unite the front of the Walk through songs like Amazing Grace, Battle Hymn of the Republic, and God Bless America. We don't let ourselves get distracted by the protesters, and we focus on our mission in prayerful and musical unity."
His motivation for participation in the Walk, Daly said, is to "give voice to the voiceless and bear witness to the monstrosity that robs children of life in the place they should be most protected, most cherished."
"We participate in the Walk because we are the pro-life generation, and we are wrestling our culture and our society back from the pro-abortion profiteers who have commandeered it for far too long," Daly added.
The full story is available at the Catholic World Report website.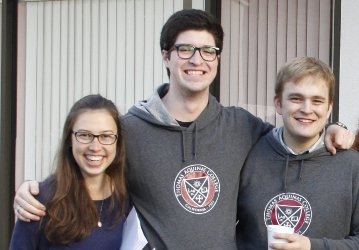 Joe Daly ('19), center, and fellow students prepare to depart for the Walk for Life West Coast 2017
NEWS FROM THE COLLEGE