Posted: October 27, 2020
Please pray for the repose of the soul of Irene Montgomery, whose husband, Mark, is a member of the Thomas Aquinas College Board of Governors. After a long battle with cancer, Mrs. Montgomery passed away at her family's home last night.
"Irene was a beautiful soul who loved and strongly supported Thomas Aquinas College," says President Michael F. McLean. "She and her husband, Mark, were a wonderful couple, filled with Christ's love for one another and for the Church. We will miss her but will remember her fondly."
Please pray also for the consolation of Mr. Montgomery and their family.
Eternal rest grant unto her, O Lord
and let perpetual light shine upon her.
May her soul and all the souls of the faithful departed rest in peace.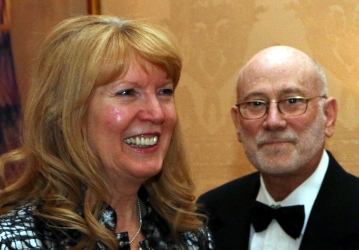 Irene and Mark Montgomery at the College's 2013 Christmas Dinner