Posted: June 16, 2020
In the 16 years since she first learned of Thomas Aquinas College, Dr. Melissa Buckley has proved herself to be not only a good friend, but an inspiring one.
Two years ago, while she visited the California campus, student workers were busily preparing the residence halls for the upcoming High School Summer Program. So Dr. Buckley lent them a hand. "I spent a few days wheeling around a vacuum and duster with the cleanup crew," she recalls. "I think it's just my habit to look at what needs to be done and see what I can do."
This spring, after speaking with College officials, Dr. Buckley offered to make another inspiring gift: She agreed to make a challenge grant for the 2020 Week of Giving to encourage others to support TAC during these uncertain times.
And so the 2020 Week of Giving, set for the last week of this month (the end of the College's fiscal year), will be the largest in the College's history. Dr. Buckley is encouraging fellow friends of the College by matching all donations up to $350,000 — for a total goal of $700,000.
A graduate of Pomona College with a doctorate in educational research and evaluation from the University of Colorado Boulder, Dr. Buckley — like numerous other "spiritual alumni" — has, through her giving, made Thomas Aquinas College her spiritual alma mater. "The students here are learning about the founding and grounding of our civilization," she says. "I don't think that happens practically anywhere else." Because they read the great works of the Western canon, she adds, they are the beneficiaries of an education that is as formative as it is intellectually demanding.
"My sense is that, first of all, they will be contributors," she says. "Second, they won't be taken in by things that aren't genuine."
Dr. Buckley knows whereof she speaks, having spent considerable time with the College's students during her several visits to the California campus over the last few years — and not only when she has cleaned beside them in the residence halls. "At every meal I would go to, I would introduce myself, saying, 'I'm a visitor from Arizona,'" she says. "And they would tell me what they were doing, what they were studying."
Hearing the students' descriptions of their studies and sitting in on their classes whetted her appetite for liberal education. "After my first visit or two, I brought home copies of Euclid and the Latin book, so I could be more informed when I asked them about what they were doing," says Dr. Buckley, who has kept up with her studies diligently.
The "delightful and totally unexpected" turn of events that led her to Thomas Aquinas College, she says, came about providentially— brought about in no small part through her habit of helpfulness.
"I had been reading in the New Testament one afternoon, and I read Jesus saying that if someone asks you, you are to give," she remembers (Matt. 5:42). "And I said to myself, 'I think that means me.'" The very next day she received fundraising appeals from an order of religious sisters and Thomas Aquinas College. Someone asked, so she gave. "I started sending little amounts periodically, and then my husband died at the end of 2016. A couple years later I looked at my financial situation and found I was able to do a little more than small donations."
In short order she joined the President's Council; then she visited the California campus for the first time. "My first morning there, when I headed down to breakfast — it's hard to describe," she says. "I had a feeling that I was at home. Every visit since, it's been like that."
She has been helping, in ever greater measure, ever since, culminating in the $350,000 in matching funds she has provided for this year's Week of Giving. "It's such a blessing for me, and a genuine delight, to make this gift," she says. "I hope it will inspire others to support the wonderful students at Thomas Aquinas College."
Of that, there can be little doubt. "Dr. Buckley is not only the driving force behind this year's Week of Giving, she's also a model for friends of the College everywhere," says Matthew Plaisted, director of the College's Annual Fund. "Like more than two-thirds of the College's benefactors, she's not an alumna or a TAC parent. She's someone who sees what the College is doing for higher education, for the Church, and for the world, and she wants to support it — to help — in any way she can."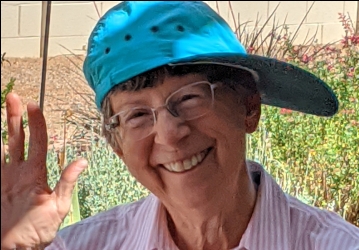 "What you do here at this college is important not only for the individual salvation of your soul, but really as a witness to all of society."
– Most Rev. Robert Francis Vasa
Bishop of Santa Rosa
NEWS FROM THE COLLEGE