Posted: July 25, 2017
Thomas Aquinas College has been blessed for more than 12 years to have Rev. Cornelius M. Buckley, S.J., serve as one of its chaplains. His wit, wisdom, and holiness have been a source of joy and consolation for many.
Five years ago, to celebrate the 50th Jubilee of his ordination, the College launched the Fr. Buckley Scholarship Fund — a way to honor this beloved priest by supporting the students he so faithfully serves. Since then the fund has raised over $300,000 for financial aid. 
On July 31 Father will celebrate the 55th anniversary of his ordination, and the College would like to invite his many friends and admirers to honor him in a special way.
Patrick Cross ('14) — an alumnus, a member of the College's Admissions Office, and a successful political cartoonist — has crafted a masterful illustration in honor of this "Jesuit giant," capturing his quintessential smile, his infectious mirth, and his abundant joy.
As a token of appreciation for a gift of $100 or more to the Fr. Buckley Scholarship Fund, the College will send you a print of Mr. Cross' amazing artwork — a wonderful memento of a truly holy and faithful priest.
"For me, supporting the Fr. Buckley Scholarship Fund is an opportunity to fund the good work the College is doing for young people while paying tribute to a great man I have been blessed to know," says Paul Lazenby ('10), director of the Annual Fund. "I hope all will consider joining me in this effort, and I heartily recommend giving these prints as gifts. All those who know Fr. Buckley will treasure them."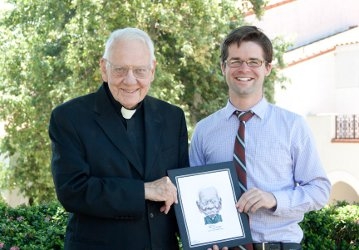 Rev. Cornelius M. Buckley, S.J., with Patrick Cross ('14)
NEWS FROM THE COLLEGE