Posted: December 14, 2018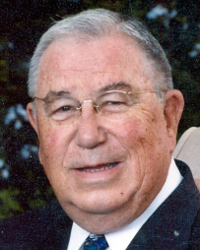 Please pray for Joseph Phillip Donald Kern, who for many years served as Thomas Aquinas College's general counsel, and who died on December 11.
Members of the College's President's Council, Mr. Kern and his wife, Lynda, are the parents of four alumni: Hannah (Tulberg '77), Paul ('80), Mary (Orellana '81), and Charlie ('85). They are also the grandparents of six alumni: Dorothy (Berndt '11), Sam ('11), and Henry ('16) Tulberg; and Rafael ('07), Gabriel ('08), Helena ('11), and Regina ('16) Orellana.
The Rosary will be recited for the repose of Mr. Kern's soul at 5:00 p.m. on Tuesday, December 18, at St. Francis of Assisi Church in Fillmore.
A requiem Mass will be offered Wednesday, December 19, at 10:00 a.m. in Our Lady of the Most Holy Trinity Chapel at Thomas Aquinas College, followed by a reception in St. Cecilia Hall. Interment at Bardsdale Cemetery will take place after the reception.