Posted: November 21, 2019
Before coming to Thomas Aquinas College this fall, Georgia Snethun ('23) spent a year pursuing her diploma (ARCT) in speech arts and drama from the Royal Conservatory of Music in Toronto. The process culminated in June with the diploma exam, an hour-long, one-woman show consisting of some 10 self-selected pieces, followed by a defense, during which Miss Snethun had to answer judges' questions about her selections and their significance. In October, midway through her Freshman Year on the California campus, she learned not only that she had passed the examination, but that she had also earned the highest mark in all of Canada — the National Gold Medal.
"I started speech arts when I was six, and I went up through all the grades, 1-10, that the Royal Conservatory offers," says Miss Snethun. "Speech arts uses various media — such as literature, public speaking, acting, poetry, and literary history and analysis — to create a confident voice in speakers. We study the whole body and how it relates to the voice, we study poetry scansion, we study phonetics. The goal is not specifically to be an actor; it's to be able to speak clearly."
Her final-examination performance, "The Mind of the Artist," featured all those elements and more, including a Leonard Cohen poem, a monologue from Desdemona in Shakespeare's Othello, and a mime scene about a street performer set to "Pictures at an Exhibition" by Modest Mussorgsky. "It was kind of like a culmination of my music and acting and public speaking," she says — noting that she chose not to pursue those disciplines in college, but instead to seek a Catholic liberal education at Thomas Aquinas College.
"As much as I love acting and I love poetry, public speaking, and everything that speech arts entails, at some point you want something a little more," Miss Snethun reflects. "When I saw what the College has to offer, I thought, 'Wow, there are my two great loves coming together: the Great Books and discussion with the voice.'"
At the College, she reasons, she isn't leaving her old passions behind, she is exploring them in a fuller context — and in a way that can easily lend itself to any career choice. "If I want to become a speech pathologist or a teacher one day in the future, then I will be better equipped than were I to go into it from a purely acting standpoint," she says. Her acting also stands to benefit from the great works she is reading as part of the College's classical curriculum. "It will just be so beautiful to have discussed and read Shakespeare here," Miss Snethun says, for example, "and then to perform it with more depth."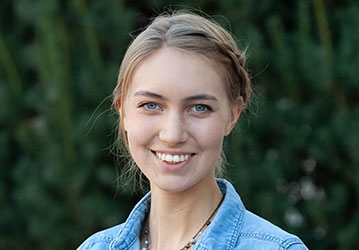 "Thomas Aquinas College is one of the premiere liberal arts colleges in the country and the pride and joy of the Santa Barbara Pastoral Region."
– Most Rev. Robert E. Barron
Auxiliary Bishop of Los Angeles
NEWS FROM THE COLLEGE