Posted: March 7, 2019
A former Thomas Aquinas College chaplain, Rev. Joseph Illo, recently appeared on Relevant Radio's "Inner Life" program to speak about a topic he knows well — Catholic liberal education.
Fr. Illo is the pastor of San Francisco's Star of the Sea Church, which this past fall transitioned its elementary school into the archdiocese' first classical academy. The switch to classical education, Fr. Illo told Catholic San Francisco, was partially inspired by his two years at the College. "I became impressed by its efficacy in teaching critical-thinking skills," he said. Last summer most of his school's faculty came to the College's California campus for a training workshop with experienced educators — including Thomas Aquinas College alumni — from the Institute for Catholic Liberal Education.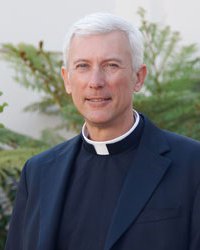 Fr. Illo"We don't study the great books so that we can get a good job," Fr. Illo told guest host Patrick Conley on Relevant Radio. "We study the great books and we learn how to think so that we can know our place in the sacred order and praise and express the wonder of being God's children. And a good job will come with that, but more than that, happiness. A deep sense of peace and order will be in our lives. That's the purpose of education; it's not essentially utilitarian. It's much deeper and greater than that."
The pastor spoke more about his time at the College when responding to a caller who is the father of three current students. "I think a lot of us that visit Thomas Aquinas College say, 'Oh, if only I could go to school again. If only I had had this education!'" he began. "Bishops come by to do graduation Masses, and without fail they always say, 'If only I could have had this education!' So I think the good news is we can share in that. I mean, you're a parent, and you probably didn't get that growing up (or maybe you did), but you're providing that for your children."
The complete interview is available via Relevant Radio.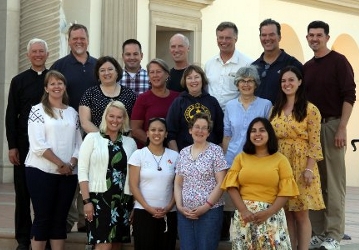 Rev. Joseph Illo with Star of the Sea teachers and members of the Institute for Catholic Liberal Education at a conference held last summer on the College's California campus
NEWS FROM THE COLLEGE