Posted: May 18, 2020
by Rev. Cornelius M. Buckley
Chaplain, Thomas Aquinas College
Homily from the Mass for the Graduates
May 16, 2020
Video |  Audio | Podcast
This is no valedictory Mass; rather, one scheduled on the day intended as graduation day for the members of the Class of 2020. The readings of the Mass are those of today, Saturday of the Fifth Week of Easter. Therefore, what I propose to do is take these readings and see how they pertain to today's celebration.
Much of this week the Gospel has centered on John, Chapter 15, where Jesus develops the allegory of the vineyard, the vine, the branches, and the vineyard cultivator, which emphasizes our union with the Trinity and with one another.
In yesterday's Gospel, Jesus gives this commandment to His intimate friends: "Love one another as I have loved you." And then, today: "Because you do not belong to the world, and I have chosen you out of the world, the world hates you."
Love/hate: Isn't there a contradiction? Didn't He love the world? Didn't He come to save it? Always living in the invisible presence His father, He was also always involved in, present to the world. It was because of His love for the world, for those in the world, that He was hated and persecuted.
Now there is a pertinent lesson here, especially for you graduates. Let's see what it is.
You are leaving TAC, an institution that prides itself in its flyers, pamphlets, and brochures with the College's slogan, "Truth Matters," and the understood but unstated reason: "and truth comes from God." But now you are entering a world where truth does not matter because, for a growing number of people, God does not exist.
The result is Chesterton's observation that "the first effect of not believing in God is that you lose your common sense." Isn't that obvious? Judge for yourselves.
It is common belief in the world in which you will be so involved that if I was born a male and want to be a female, I am a female; if I was born a female and want to be a male, I am a male — all physical and scientific evidence to the contrary notwithstanding. I am the creator of my own truth.
For this reason, abortion simply means removal of unwelcomed tissue from a woman's body; marriage has nothing to do with family; it is what I want it to be at this particular moment.
This attitude is what Jesus means by the spirit of the world. It is the denial of truth. "I am the truth," as He said. So, to deny the possible existence of truth is to deny Him.
So much for some philosophical and social challenges you graduates will have to meet. Then, with a brief nod of recognition to the high economic hurdles before you, I'll pass on briefly to spiritual truth.
Jesus' command to His followers was: "Go make disciples of all nations." He did not direct this statement only to priests and missionaries. He wants all of us to witness to the truth defined in His Gospel, and never before were young laymen like yourselves needed so urgently as now to carry out that command.
The organization Fellowship of Catholic University Students (the acronym of which is FOCUS) stresses this need, and in its promotional literature it cites the Pew Research Center's findings that
Only 30 percent of Americans who were raised Catholic are still practicing;
Almost 80 percent of those who leave the Church do so by the age of 23;
The fastest-growing religious demographic in the U.S. are people who list their faith as unaffiliated.
Such is the world you graduates are now entering.
How to respond? During his life, Jesus lived in total union with His father and He was completely involved in the world about Him. He is your model.
To be a savior along with Him, learn to encounter God in your intimate relationship with Him through prayer and the Sacraments, and because you are the generation of hope for the Church, you must learn to share your hope and joy with others, especially in professional and social encounters with your peers. Have recourse daily to the Blessed Virgin, asking her to make intercession for your endeavors.
Finally, in the first reading of our Mass today there is a lesson that might help you see the vocation to be the missionary Christ calls you to be.
After some hectic experiences, Paul had a vision of a Macedonian begging him to come to Macedonia to be a missionary there. Paul did. In and out. No big deal. Nothing of long-lasting results seemed at the time to be noteworthy. It was only later that the consequences of this going-out-of-his way were seen. It was the first time the Gospel was brought to Europe. And what has been the result?
So, here is the lesson: You be Paul to those 70 percent of born-and-raised Catholics who no longer practice their religion, and to your peers that make up the 80 percent who have left the Church, and finally, of the numerous "nones" out there whom you will meet.
With Jesus, often repeat the words in the Communion Antiphon of today's Mass: "Father, I pray for them that they may be one in us, so that the world may believe it was You who sent Me."
Then, like Paul, step back and let the Holy Spirit do the rest; let Him magnify your meager efforts. May God bless you all.
Video
Audio
Receive lectures and talks via podcast!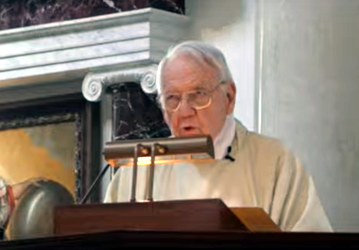 "The diverse and in-depth education I received at Thomas Aquinas College was extremely valuable, first and foremost, for my soul; but it also proved to be more beneficial for my vocation as a physician than all the 'hard sciences' combined, perfectly blending the practical with the philosophical, and allowing me to see Christ in all whom I treat."
– Caroline Johnson, M.D. ('97)
Internal Medicine Hospitalist
"This is truly a Catholic center of learning because it reverberates with the ecclesial life of faith, a faith which unfolds the richness of reason and is given fervent expression liturgically, sacramentally, and through prayer, acts of charity, and a passion for justice."
– The Most Rev. J. Michael Miller
Archbishop of Vancouver
Former Secretary, Congregation for Catholic Education
NEWS FROM THE COLLEGE