Posted: November 16, 2017
Thomas Aquinas College offers its congratulations to four prelates whom, according to the Catholic News Agency, the United States Conference of Catholic Bishops (USCCB) has selected to serve as delegates at next year's Synod on Young People, the Faith, and Vocational Discernment. All four of the nominated delegates are longstanding friends of the College: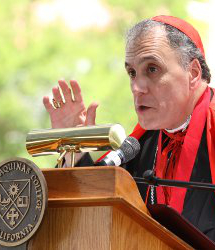 Leading the delegation is His Eminence Daniel Cardinal DiNardo, Archbishop of Galveston-Houston and president of the USCCB. The first-ever member of the College of Cardinals to represent a diocese from the American South, His Eminence previously served as the USCCB's vice president and chaired its Committee on Pro-Life Activities. Cardinal DiNardo also served as Thomas Aquinas College's Commencement Speaker in 2013, at which time he received the College's highest honor, the Saint Thomas Aquinas Medallion.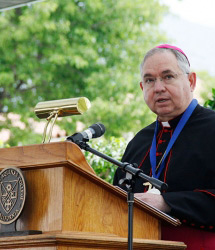 Joining His Eminence is another Saint Thomas Aquinas Medallion recipient, the Most Rev. José H. Gomez, who, as Archbishop of Los Angeles, is the College's local ordinary. His Excellency serves as the USCCB's vice chairman and has previously served as chairman of its Subcommittee for the Church in Latin America. He was the College's 2011 Commencement Speaker and, in 2014, visited the College once again to bless the commemorative plaques outside Our Lady of the Most Holy Trinity Chapel.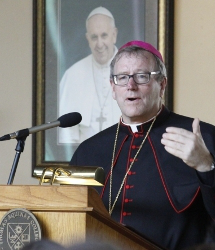 Also hailing from the Archdiocese of Los Angeles is the chair of the USCCB's Committee on Evangelization and Catechesis, the Most Rev. Robert E. Barron, episcopal vicar for the Archdiocese of Los Angeles' Santa Barbara region, which includes Thomas Aquinas College. His Excellency has made several visits to the College since his appointment to the episcopate in 2015. He presided over last year's Convocation exercises and will be returning again to visit with students in February.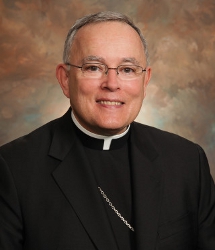 The final member of the delegation is the Most Rev. Charles Chaput, Archbishop of Philadelphia, who hosted the World Meeting of Families attended by Pope Francis in 2015. In addition to having served on numerous USCCB committees involving marriage and family, the defense of human life, immigration, and religious freedom, His Excellency is a member of the Pontifical Council for the Laity. He served as the homilist and Keynote Speaker at the College's 30th anniversary celebration in 2001.
The 2018 Synod on Young People, the Faith, and Vocational Discernment is an international global meeting of bishops which His Holiness Pope Francis will host next year at the Vatican.
"When I first came here, since I am not a Catholic, I was nervous, because it's a different culture for me, but people have been so friendly, so charitable. It is such a blessing to live in this community, where people care about you. You make strong friendships that last a lifetime."
– Sanjay Adhikari ('18)
Kathmandu Nepal
CALENDAR
NEWS FROM THE COLLEGE