Posted: December 10, 2020
Students at Thomas Aquinas College, New England, woke this morning to a welcome surprise that will help them make it through first-semester examinations — care packages, courtesy of their peers at Thomas Aquinas College, California.
"I got the idea from my own family, which has sent me care packages during past exam weeks," says Robert Santine, a junior on the California campus who organized the Advent effort. "I thought it would be nice to have some kind of gesture of good will between the campuses."
Earlier this month, Robert posted a request to a student Slack channel asking those who "want to support the eastern campus" to "consider pitching in funds so there's enough to go around out there!" He soon raised sufficient funds to place orders for two packages — one for the women's residence hall, and one for the men's, on the Northfield, Massachusetts, campus. "Basically it's a lot of snacks — granola bars, chocolate, hot cocoa, things like that for students to have while studying," he says.
Robert first got the idea for California students to give to their New England counterparts last fall. Although pleased that the effort has grown in its second year, he would like to see it expand further. "We ran out of time when the semester was shortened by a week," he notes. "But next year I would like to do more to get the word out, include more people, and make the packages more personalized."
For their part, the New England students are grateful for the cross-country solidarity. "I'm thankful to see that there are other young people on the other side of this country who are pursuing the same thing we are, and are, in a way, looking after us as we develop a second Thomas Aquinas College campus," says Paul Dinan ('23). "It shows that we have one united community, because we are all going after the same thing — namely, truth — and that centers us, even though we are 3,000 miles apart."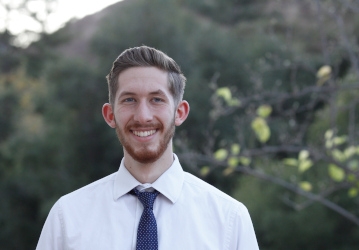 NEWS FROM THE COLLEGE