Posted: May 19, 2020
At the recent close of the academic year, two members of the Thomas Aquinas College teaching faculty — David J. Quackenbush ('88) and John F. Nieto ('89) — joined a select group of Thomas Aquinas College faculty: those who have taught all 23 courses in the College's classical curriculum.
"Both tutors had already completed the program once as students, but completing it again as tutors requires a level of mastery that is a remarkable achievement," says Dean John Goyette. Only two other members of the teaching faculty have previously achieved this milestone: Associate Dean Thomas Kaiser and Senior Tutor Dr. Glen Coughlin.
Because Thomas Aquinas College offers a fully integrated curriculum, it is unique among American colleges and universities in requiring its faculty members to teach not only in their areas of expertise, but in a wide variety of disciplines — language, logic, mathematics, music, natural science, literature, economics, history, philosophy, and theology. "Our founders recognized that tutors who teach across the disciplines are better equipped to answer students' questions and help them see how the disciplines build upon one another," adds Dr. Goyette. "The requirement demands much from our faculty, but they rise to the occasion, and our students are the ultimate beneficiaries."
A member of the Thomas Aquinas College Class of 1988, Mr. Quackenbush pursued graduate studies in philosophy at the University of Notre Dame before returning to the College as a tutor in 1991. "Specialization seems to be king almost everywhere, and easily becomes a tyrant," he says. "In my experience, the intellectual culture that emerges from a community where it is expected that everyone is interested in everything is a precious encouragement for young people beginning the road to wisdom. The opportunity, and encouragement, to teach the entire curriculum at TAC is close to the heart of what makes the College unique."
One year behind Mr. Quackenbush at the College, Dr. Nieto graduated in 1989 and likewise studied philosophy at the University of Notre Dame. He joined the Thomas Aquinas College teaching faculty in 1992. "Going through the whole program again as a tutor — especially several senior classes in the last few years — has helped me see what a sound beginning to the whole intellectual life our curriculum is," he says. "Even before I attended the College as a student, I concluded that there may never have been a better program of studies for the beginner."
Given the relative youth of the College, which will mark its 50th anniversary next year, the number of tutors who have taught the entire curriculum will surely grow in the years to come. For now, however, Mr. Quackenbush and Mr. Nieto remain in rare company. "Their achievement illustrates the commitment of our entire faculty to our integrated program of studies," says Dr. Goyette, "which we pursue together with the students in a close-knit community of friends — now spread across two campuses."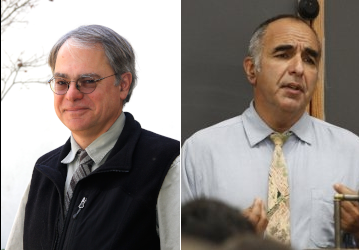 "Thomas Aquinas College is a small college, but its reputation has spread far and wide. Because it lives off the masterpieces of thought and literature emanating from the Christian tradition of the Western world, it provides a first-rate education for a select body of talented undergraduates."
– Avery Cardinal Dulles, S.J (†)
NEWS FROM THE COLLEGE