Posted: July 7, 2017
Dr. Paul J. O'Reilly
Vice President for Development
Thomas Aquinas College
Address at New England Reception
July 1, 2017
In the liturgy of the Catholic Church this week, we are following the story of Abraham and Sarah. God has made a promise to them that they will be the parents of a great nation, but they struggle with how that can be. After all they are old and unable to have children, so how can this be? Will the promise be through Hagar, their maidservant, perhaps? Theirs is a struggle of faith because it seems that what is promised is impossible.
In a much less significant way, Thomas Aquinas College faced a similar struggle three years ago. When we heard about this beautiful campus, it seemed that the great promise was impossible. We had not finished our own campus in California, so the timing was not perfect. The National Christian Foundation (NCF) was, quite reasonably, looking for an institution more in line with its Protestant heritage. Although the campus' beauty is evident, it is also clear that the cost of renovation and operation would be significant. It seemed impossible that we would receive this extraordinary gift.
But that was three years ago. We reached out to Emmitt Mitchell at the NCF to ask if we might be a good fit. We are Catholic, and although our financial situation is stable we did not have the kind of resources other entities might have. Yet we asked, because if this is God's will, we thought, we should ask. We asked Emmitt to look at our website, and he contacted us the next day to say we should come visit. This was the beginning of a journey that started off seeming to be impossible. Even after a year it seemed improbable. Then it seemed unlikely, but not impossible. And now here we are: owners of this lovely place and neighbors with the Moody Center. Thomas Aquinas College is confident that this has been a journey of faith and a movement of grace.
We have received this beautiful campus which D.L. Moody built. With the gift comes responsibility. We should not ignore the work of those who came before us. Now this afternoon we have with us David Powell, the great grandson of Mr. Moody, and with David his wife, Lucia. David and Lucia would you please stand? … We have also a number of alumni of the Northfield School. I would ask if the alumni would stand …
On behalf of Thomas Aquinas College, I would like to tell you, David and Lucia, that we will do our very best to be respectful of the Moody legacy. In particular, in two ways we aspire to follow D.L. Moody's example: We strive to be fully devoted to Jesus Christ, so that everything we may do here will be for the greater glory of God. Also, we hope to offer an education to those who are willing and able to do our educational program regardless of their financial circumstances.
To the alumni of the Northfield School, I pledge that we will be good stewards of this campus. Working with the Town of Northfield, we will, over time, return these buildings to their former majesty. My hope is that in the years to come, when you walk this campus, you will be proud of what it has become.
Of course there is much work to be done. When we tour the buildings you will see that some are in need of repair and renovation. Much must be done to bring back this campus to its glory. Jon Daly and the Admissions Department ask parents to trust us with their greatest treasures — their children. And the development effort requires that those who have been blessed with resources consider supporting our efforts. If we are approved by the Massachusetts Board of Higher Education, we will have a big task in front of us, but I do not think we should be intimidated by it. After all, this will be a journey of faith. So if God has blessed you with abundance, please think about joining us as partners in this movement of grace. All of us can support Thomas Aquinas College in prayers. Some can also help us with our financial needs, please contact me if you would like to know how you can work with us. This much I know: It will be a rewarding thing to be a partner in this great effort, because God is never outdone in His generosity.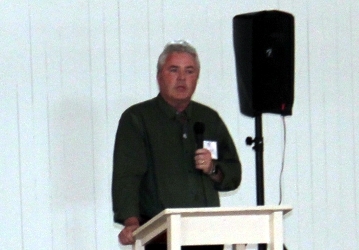 "The Discussion Method gives you a sense of finding the truth for yourself, and thereby owning it, rather than being told what to think."
– Isaac Cross ('19)
Leominster, Massachusetts
"Thomas Aquinas College has always been thoroughly Catholic in its identity. It's an outstanding program of studies, founded on a loyalty to the Chair of Peter and to the Magisterium of the Church."
– Raymond Cardinal Burke
Prefect Emeritus, Supreme Tribunal
of the Apostolic Signatura
CALENDAR
NEWS FROM THE COLLEGE