Posted: November 10, 2017
This past week Thomas Aquinas College President Michael F. McLean visited New England and stopped by the Northfield property in Massachusetts, a magnificent gift made to the College by the National Christian Foundation last spring. Patrick Cross, a graduate of the College's Class of 2014 who lives nearby and gives tours of the site to interested visitors, was on hand to greet Dr. McLean.
On March 6, the College submitted its application to the Massachusetts Department of Higher Education to operate a second campus at Northfield. On August 24, Dr. McLean headed up a team of faculty and governors of the College that participated in a site visit with a team of four Massachusetts, college-level educators. On October 10, that visiting committee delivered its report to the College. After consultation with the faculty and Board of Governors, the College will submit its response to that report in the next few days. The visiting committee will then have up to 30 days to make its response to the College.
Says Dr. McLean, "Once we receive their response, we'll be in a better position to know where we stand. In the meantime, the property is being well-maintained, and the faculty and students are praying for a timely conclusion to this process. I urge all our alumni, friends, and benefactors to join with us in prayer for this intention." He added, "We will pass along news as it becomes available."
More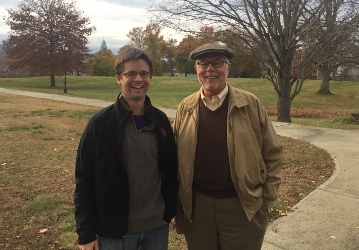 Patrick Cross ('14) and President Michael F. McLean visit the College's New England property.