Posted: November 21, 2016
"It was around the time that our oldest, Madeline (Freer '12), was applying to colleges, and I met with a TAC Admissions counselor," recalls Joe Flanders of Muscatine, Iowa. "I told him that the school was exactly what my wife and I were looking for — faithful to the Magisterium, outstanding program. There was only one problem: With raising nine children, there was no way we could afford it."
Like many parents, Mr. Flanders and his wife, Joan, assumed that Madeline would need to go to a state school. At a homeschooling conference, they shared their concerns with Laura Berquist ('75), an alumna, foundress of Mother of Divine Grace School, and the wife of one of the College's late founders, Marcus R. Berquist.
"She looked me straight in the eye and said, 'If your children meet the academic requirements, the College will make it happen financially,'" Mr. Flanders remembers. "We took her at her word, and as of today the first three have graduated, the next two are attending, the sixth has just submitted her application, and the last three are working hard because they, too, want to partake of this wonderful Catholic education."
The Flanders' onetime concern is a widely held misconception, says Jon Daly, the College's director of admissions. "Many families think that a public school will be more affordable than the College, when just the opposite is true."
In August LendEDU, an online student-loan marketplace, published a list of the four-year colleges and universities with the lowest student-debt loads in the United States. Thomas Aquinas College ranked near the top of that list, number 42 out of some 1,300 schools. The average student debt, per borrower, among the College's 2015 graduates was $16,901 — nearly half of the national average of $31,710 for graduates of private colleges and universities, and below even the national average of $26,872 for graduates of public institutions.
As part of its adherence to Catholic social teaching, Thomas Aquinas College has been committed, ever since its founding, to admitting all qualified and willing students, regardless of their financial circumstances. This commitment benefits all of the College's families — not just those receiving financial aid.
"If tuition reflected the actual price, per student, of operating the College, it would be about $5,000 a year higher," explains Parents' Association Director Robert Bagdazian. "But, thanks to the generosity of our benefactors, we are able to reduce the price, thereby making the College more affordable for everyone, and we haven't raised tuition or room & board fees once in the last four years."
It helps that, because the College has a fixed curriculum, most students complete the academic program in just four years. The four-year graduation rate for all American college students is just 39 percent, compared to 80 percent at Thomas Aquinas College. As a result, the total cost of education at a typical public or private college, even if its tuition rate is nominally lower than the College's, is oftentimes higher, because students must pay for 2-4 additional semesters.
Then there is the College's financial aid program, upon which some 74 percent of all students depend. "Families make a maximum effort to pay as much as they reasonably can, and students are expected to work to help cover the cost of tuition," notes Mr. Bagdazian. "But we ask students to borrow no more than $18,000 over four years, and our benefactors help us make up the remainder through grants. We don't want to saddle our graduates with overwhelming debt."
The "surprising affordability" of the College, Mr. Bagdazian says, is "good news" that parents would do well to pass along to other families — and help to continue. "This is a large part of why the Parents' Association exists," he remarks. "We parents recognize that the College has been a tremendous blessing to our families, and we want to return the favor, whether by spreading the word or, through our charitable giving, making this education affordable for others."
For families such as the Flanders, these acts of generosity have been Heaven-sent. "We are profoundly grateful to all the benefactors for helping us to give our children an opportunity that we would not have been able to give on our own," says Mr. Flanders. "We thank you from the bottom of our hearts."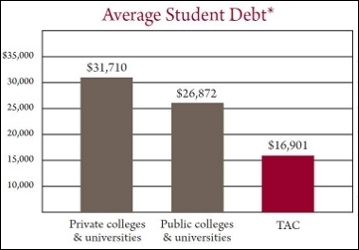 "The education at Thomas Aquinas College makes men free, able to direct their own lives, and that of the community."
– Laura Berquist ('75)
Founding Director of Mother of Divine Grace School; Author, Designing Your Own Classical Curriculum
"The Church will flourish through the inspiring example and praiseworthy endeavors of Thomas Aquinas College."
– The Most Rev. Pietro Sambi (†)
Apostolic Nuncio to the United States
CALENDAR
NEWS FROM THE COLLEGE