Posted: February 4, 2021
"At TAC you get to teach within the context of this wonderful curriculum," marvels James Berquist ('08), the newest tutor at Thomas Aquinas College. "You have people being given the tools to read and to seek out the truth with real guidance. There's really nothing like it." 
As an alumnus and the latest addition to the California teaching faculty, Mr. Berquist is now immersing himself for a second time in a program crafted in part by his own father, Marcus R. Berquist, one of the College's founders. "Something really unique and wonderful from my childhood is that my parents manifested and modeled for us, in their lives, that there is absolutely no conflict in the relationship between faith and reason," he reminisces. "My father, in particular, enabled me to see how faith seeking understanding is the principle behind the most proper pursuit of wisdom."
Indeed, an abiding appreciation for the value of Catholic liberal education permeated the Berquist home. Mr. Berquist's mother, Laura (Steichen '75), is a graduate of the College's first class and the founder of Mother of Divine Grace School, a classical distance-learning program.
As a high school student, young James was interested in pursuing a further education in the liberal arts, but he was also a serious athlete. Although he would take up "any sport" that came his way, he especially enjoyed tennis and golf. "I would play for the local leagues, and it was definitely on my mind at one point … I was wondering if that would be something I would rather pursue at the time." But when he attended Thomas Aquinas College's High School Summer Program, he quickly determined that he wanted nothing more than to spend the next four years discussing the Great Books in the company of friends.
One man who made a deep impression on James during his student years was another of the College's founders, Dr. John W. Neumayr. The young Berquist was privileged to study the writings of St. Thomas with Dr. Neumayr in Senior Theology. "He had a clarity of expression, specifically when he came to making distinctions," Mr. Berquist reflects. "It was a wonderful manifestation of the work of a teacher, to prepare the material so that the student is able to see it with profit for his soul and actually grasp it."
After graduating from the College, Mr. Berquist elected to pursue graduate studies at the University of Dallas. "I went there because I wanted to keep up that kind of interdisciplinary approach, because wisdom is not contained in one discipline," he explains. "I was very happy with the program, because that same basic point was true there as is at TAC, namely that in the classes people are there for the sake of coming to the common good of truth. Professors have that understanding explicitly in mind."
Mr. Berquist then spent the next several years close to home in Southern California, teaching at Ventura College and online for Texas A&M University. Although initially hired to join the Thomas Aquinas College teaching faculty at the start of the 2021-22 academic year, he has begun earlier than anticipated and now leads a section of Junior Seminar in the place of Dr. Karen Zedlick, who is recovering from illness. These next few months will be busy ones for the new tutor as he works at his alma mater while continuing to teach courses for Texas A&M and Ventura College. He will begin fulltime at the College this fall. 
Mr. Berquist is happy to return to a place he knows and loves. "What's so amazing at TAC is having people developing the capacity to investigate the truth in a worthwhile and productive way," he avers. "It's something that I'll never take for granted."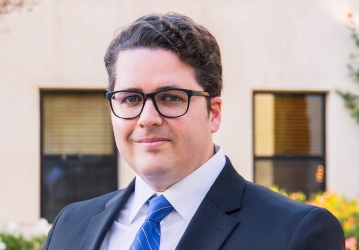 "What you do here at this college is important not only for the individual salvation of your soul, but really as a witness to all of society."
– Most Rev. Robert Francis Vasa
Bishop of Santa Rosa
NEWS FROM THE COLLEGE