Posted: February 11, 2020
At a special Mass and celebratory dinner in downtown Los Angeles on Saturday, members of the Thomas Aquinas College community gave thanks for and to a stalwart champion of the Catholic Church and her works, Richard A. Grant.
Over the last half-century Mr. Grant has served as secretary-treasurer, then executive director, and finally president of the Dan Murphy Foundation, which promotes numerous Catholic initiatives, especially those pertaining to education and religious life. In honor of his retirement, friends of Mr. Grant from around the world came together to express their gratitude for his career of service. Among those were Thomas Aquinas College President Michael F. McLean and his wife, Lynda; Chairman of the Board of Governors R. Scott Turicchi and his wife, Lannette; one of the College's founders and former presidents, Peter L. DeLuca, and his wife, Kay; longtime chaplain Rev. Cornelius M. Buckley, S.J.; Director of College Relations Anne S. Forsyth ('81); and Choir Director Dan Grimm and his wife, Rose (both '76).
"Richard Grant began his tenure at the Dan Murphy Foundation just a year before Thomas Aquinas College opened its doors, and he and his wife, Maria, have played major roles since then in the development of our California campus and the planning for our second campus in New England," said Dr. McLean. "Through Richard's good offices, the College has been the recipient of many generous gifts from the Dan Murphy Foundation for both capital projects and for student financial aid, making it possible for many of our young people to receive the benefit of a genuinely Catholic liberal education that would not otherwise have been available to them."
Under Mr. Grant's leadership, the Foundation has contributed to the construction of many buildings on the California campus, making lead gifts for St. Bernardine of Siena Library and Our Lady of the Most Holy Trinity Chapel. In honor of its tremendous generosity, the College in 1993 inducted the Dan Murphy Foundation into the Order of St. Albert the Great. "Richard and Maria have also been personally most generous to the College over many years with their time, talent, and treasure," added Dr. McLean, noting that the Grants are longstanding members of the President's Council and Legacy Society, and that Mrs. Grant has served for 22 years on the College's Board of Governors, including 6 as chairman.
Saturday's festivities began with a Vigil Mass in the Sunset Room of the California Club, with the Most Rev. José H. Gomez, Archbishop of Los Angeles, serving as the principal celebrant. Joining His Excellency at the altar were some two dozen concelebrants, including fellow L.A. prelates Cardinal Roger Mahony, the Most Rev. Marc Vincent Trudeau, and the Most Rev. David G. O'Connell; and visiting prelates Cardinal Justin Rigali and the Most Rev. Nicolas Djomo Lola, Bishop of Tshumbe in the Democratic Republic of the Congo. The Carmelite Sisters of the Most Sacred Heart of Los Angeles chanted the responses and sang several hymns, and the former superintendent of high schools for the Archdiocese of Los Angeles, Msgr. Sal Pilato, gave the homily.
Cocktails and dinner followed, with tributes from Jon Rewinski, a former member of the Dan Murphy Foundation's Board of Trustees and a lifelong friend; Bishops Trudeau and Djomo; Joe Sanders, chairman of the Foundation's Board of trustees; and Sr. Regina Marie Gorman, O.C.D., vicar general of the Carmelite Sisters of the Most Sacred Heart of Los Angeles. Then Mr. Grant spoke of his last 50 years' work, which, he said, "has been a learning experience in how a philanthropic foundation can, with consistent effort over time, make a real difference in promoting the good, the true Good."
He was especially gracious in his comments about the College. "Fifty years ago the Dan Murphy Foundation made its first grant to Thomas Aquinas College for $25,000, and in the ensuing years it contributed many times that amount towards the completion of the beautiful Thomas Aquinas College campus in Santa Paula," said Mr. Grant. "The College is now an internationally recognized institution whose graduates are playing an increasingly prominent role in the realms of church and state in this country and abroad." He also noted that his "first real introduction to the College occurred in the early 1990s when I attended a Great Books Summer Seminar," and he was "taken with the experience."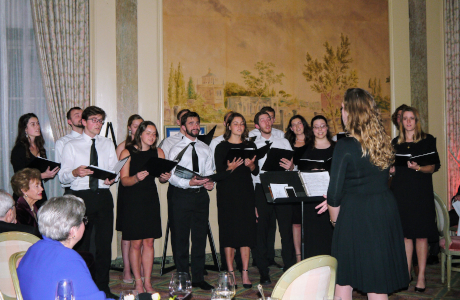 Chrysostomos sings at Mr. Grant's retirement party
In conclusion, one of the College's student choirs, Chrysostomos, performed three songs that Mr. Grant had personally requested: Lauridsen's "O Magnum Mysterium," "Shenandoah," and "May God Bless You and Keep You" — plus an encore, the Ave Maria.
Although Mr. Grant's time at the Dan Murphy Foundation has come to an end, his good work on behalf of the Church continues. In upcoming years, in addition to updating a family narrative his grandfather wrote in 1951, he plans to work as a Knight of the Order of Malta on the Caring for the Whole Person initiative in the Archdiocese of Los Angeles, a ministry of presence and accompaniment for persons who are seriously ill. He will also participate in a significant archival project at the Huntington Library.
"For all of the good the Grants have done, and for many years of warm friendship," said Dr. McLean, "on behalf of the entire community of Thomas Aquinas College, I wish them God's richest blessings as they embark on this new phase of life."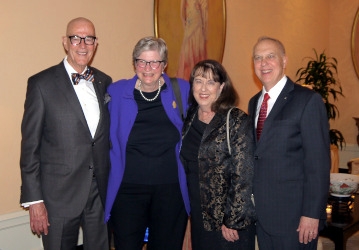 Richard and Maria Grant with Ann and Joe Sanders, chairman of the Dan Murphy Foundation's Board of Trustees
"When you're discussing the great works you have to assimilate what's being said by the author to your own understanding. Rather than passively receiving information, we're becoming self-learners and independent thinkers, making the great ideas our own."
– Matthew Dugan ('18)
Wayzata, Minnesota
"Thomas Aquinas College is uniquely positioned and equipped to let light shine once more in our world, in our society, in our communities, in our families, in our relationships."
– Most Rev. Paul S. Coakley, S.T.L., D.D.
Archbishop of Oklahoma City
CALENDAR
NEWS FROM THE COLLEGE