Posted: March 27, 2020
"I don't intend any dark humor," says Paul Blewett ('85), Thomas Aquinas College's newly appointed director of gift planning. "But if you've got a few minutes to spare — and with all this 'sheltering in place,' most of us do — this is the perfect time to write your will."
"Well before COVID-19 ground most business and social interaction throughout the world to a halt, the College was planning to offer an excellent estate-planning tool — free of charge — to friends and benefactors. "When everything shut down, we thought about putting those plans on hold," says Mr. Blewett. "But then we thought, why not now? This is a chance to help people deal with one of life's obligations in a way that's quick and convenient."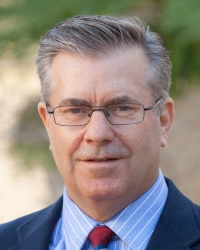 Paul Blewett ('85)The service, FreeWill estate planning, is simple. "For most people who don't need more complex estate planning with an attorney, the online form takes about 20 minutes to complete," says Mr. Blewett, a licensed attorney and a graduate of the University of Notre Dame Law School. "And the wills produced by FreeWill comply with probate laws in every state."
The modest effort required to complete the form is well worth it. "Everyone needs a will, a legal document for deciding what legacy we would like to leave at the end of life," says Mr. Blewett. "It's an important way to take care of our loved ones. With a will to guide them, they can know and follow our wishes and suffer no unnecessary stress and sorrow." 
To get started on this guided, step-by-step process, simply visit FreeWill.com/TAC.
It is worth noting, however, that the Advance Health Care Directive provided by FreeWill.com is not in accordance with Catholic social teaching, and Thomas Aquinas College does not recommend its use.
"Having an Advance Health Care Directive and a Durable Financial Power of Attorney on hand is important," says Mr. Blewett. "So we strongly recommend an alternate form with language that is consistent with Catholic teaching. Life Legal Defense Foundation provides guidance in this matter, as well as links to several other online resources. Your local diocese may also have resources available to you, including an Advance Health Care Directive form."
The will-writing service is available, for free, to all friends of the College at FreeWill.com/TAC.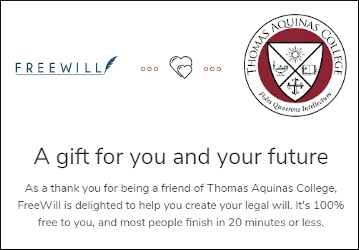 "It's wonderful how, in the integrated curriculum, everything matches up. You'll be reading one thing in language class, and then it will come up again in philosophy, and goes on to affect everything you read from then on. You get a deeper understanding of each discipline by seeing how they connect with the others."
– Thomas Esser ('18)
Chino Hills, California
"The Church will flourish through the inspiring example and praiseworthy endeavors of Thomas Aquinas College."
– The Most Rev. Pietro Sambi (†)
Apostolic Nuncio to the United States