College to Offer First Summer Seminar Weekend in New England!
Posted: April 25, 2019
For more than 20 years, summers at Thomas Aquinas College's California campus have been highlighted by the Great Books Summer Seminar Weekends for friends and benefactors. This summer the event will be offered — for the first time — on the College's new campus in Northfield, Massachusetts.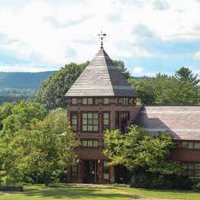 "Our primary reason for establishing a second campus is to make our program of Catholic liberal education available to more people," says President Michael F. McLean. "So it follows that our New England campus should offer the same summer events that, for years, have so successfully introduced newcomers to the work of the College in California."
Summer Seminar weekends allow attendees to get a firsthand experience of the day-to-day life of Thomas Aquinas College students — the intellectual life, the spiritual life, and the friendships rooted in a shared experience of the true, the good, and the beautiful. Participants read passages from the Great Books of Western civilization, then discuss those readings in seminars led by senior members of the teaching faculty. Together they work to understand the meaning of the texts and to discern the truths these works contain. Between seminars, guests also enjoy delicious meals served both indoors and outdoors, as well as daily Mass and confession offered by the College's chaplains.
The first-ever New England Summer Seminar Weekend will take place from June 21-23 in Western Massachusetts' historic Connecticut River Valley. "Although open to everyone, the Summer Seminars are largely attended by members of our President's Council," says Vice President for Development Paul J. O'Reilly. "As such, we wanted to let these benefactors be among the first to experience the life of the new campus that they are making possible — to walk its lawns, to eat in its dining hall, to discuss the Great Books in its century-old, red-brick classroom buildings."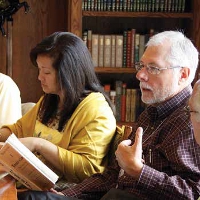 Over the course of the three-day weekend, participants will attend a series of discussions led by Dr. McLean, Dr. O'Reilly, and the associate dean for the New England campus, Dr. Thomas J. Kaiser. With the New England residence halls still under renovation, guests will stay in a nearby hotel, but they will spend their days and take most of their meals on campus. The price, including lodging, dining, seminars, and readings, is $1,200 per person or $1,800 per couple (discount for President's Council members: $950/ single and $1,450/couple).
The theme for this year's weekends will be "The Search for Happiness." Attendees will discuss Gustav Flaubert's "A Simple Heart," Epictetus' Enchiridion, and St. Thomas Aquinas' consideration "Of Those Things in Which Happiness Consists" from the Summa Theologiae. "What does it mean to be happy, and how is happiness attained? These are questions that men have posed throughout history," says Dr. McLean. "There is a great tradition in the Western canon that points toward answers to these questions, helping to lead man to true joy. We will explore that tradition this summer in New England, which I expect to be deeply rewarding for everyone involved."
To register, please e-mail or call Patti Harmonson,
special events coordinator, 805-421-5929
"In our classroom discussions, we are responsible for our own education. We have to get our hands dirty, to figure out the material, to let it become part of us and make us better people. That is real learning."
– Isabella Hsu ('18)
Redondo Beach, California
"Thomas Aquinas College is a small college, but its reputation has spread far and wide. Because it lives off the masterpieces of thought and literature emanating from the Christian tradition of the Western world, it provides a first-rate education for a select body of talented undergraduates."
– Avery Cardinal Dulles, S.J (†)
CALENDAR
NEWS FROM THE COLLEGE