College Hosts Ventura County Search & Rescue Volunteers
Posted: June 28, 2018
Earlier this month more than 100 search-and-rescue volunteers — joined by two helicopters and rescue dogs — gathered on the campus of Thomas Aquinas College for the Ventura County Sheriff's Annual Search and Rescue (SAR) All Team Meeting.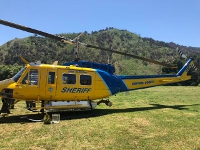 Members of the search-and-rescue teams serve the East Valley, Upper Ojai, and Santa Paula regions of the county. "We had our trained underwater, alpine, and K-9 units all here for the occasion," says Paul Lazenby ('10), director of the College's Annual Fund and a new member of the Upper Ojai SAR team. "The SAR workers are all volunteers who provide an invaluable service to the community. So it was an honor for the College to be able to host this event, as an expression of our gratitude for all that they do."
The campus was, for many of those in attendance, a familiar venue. The SAR teams use the athletic fields as a staging center for rescue efforts in the nearby Los Padres National Forest. And at the county's request, the College sheltered neighboring residents who were evacuated from their homes during December's Thomas Fire.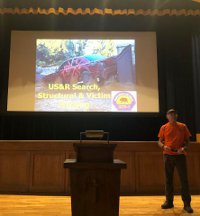 Over the course of the All Team Meeting, the SAR volunteers received training and caught up with colleagues. The day began with breakfast in St. Cecilia Hall, followed by a series of presentations about recent area disasters, how to search for people with Alzheimer's disease, and urban rescue. After a barbeque lunch in the campus picnic area, the group reconvened in St Cecilia's for an award presentation. Finally Mr. Lazenby concluded the event by leading his fellow rescue workers on a tour of the campus.
Among those in attendance were Ventura County Sheriff Geoff Dean and his recently elected successor, Assistant Sheriff Bill Ayub. "For four decades the Sheriff's Office has provided excellent service to the College," says Mr. Lazenby. "We are glad to be able to assists it in any way we can."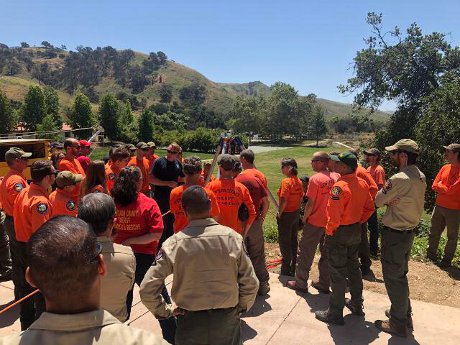 "The students that have had an opportunity to be part of the life of the College have been enriched by their experience in an environment conducive to achievement. Now in all walks of life, graduates of Thomas Aquinas College are contributing, by following a wide variety of pursuits, to the betterment of society."
– Renato Raffaele Cardinal Martino
President, Pontifical Council
for Justice and Peace
CALENDAR
NEWS FROM THE COLLEGE