Posted: August 28, 2020
On August 15, the Feast of the Assumption, Rev. Mr. Robert W. Andrews — a member of the Thomas Aquinas College Board of Governors — became a permanent deacon for the Archdiocese of San Francisco, marking the culmination of a five-year program of formation. Deacon Andrews received the Sacrament of Holy Orders at St. Pius Catholic Church in Redwood City, at the hands of a dear friend of Thomas Aquinas College — the Most Rev. Salvatore Cordileone, Archbishop of San Francisco and the College's 2016 Commencement Speaker.
"I have long envisioned that I would do something to serve the Lord once my working career ended," Deacon Andrews, formerly the managing director of Cambridge Associates LLC, told Catholic San Francisco. "As a deacon, I can minister to others with the life-giving balm of the Gospel, and I will also be able to assist at holy Mass, weddings, baptisms, and funerals."
Deacon Andrews and his wife, Lisa — who undertook much of the five-year theological education alongside her husband — live in Menlo Park. They are the parents of two adult children, and the couple has long been active in parish ministry.
"A deacon is a minister of service and of God's word," he says. "This is an enormous grace and privilege. I am humbled by the call and eager to serve."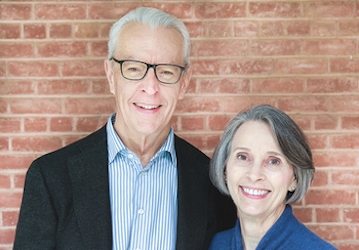 Rev. Mr. Robert and Lisa Andrews
Photo: Dennis Callahan/Catholic San Francisco