Early Wednesday afternoon, four spades pierced the ground in front of the last remaining temporary building on Thomas Aquinas College's academic quadrangle, thus inaugurating the construction of the College's newest permanent building, St. Gladys Hall.
Set to open its doors in the fall of 2014, St. Gladys Hall will be the thirteenth building constructed since the College acquired its campus in the 1970s. The new building will house eight classrooms, replacing the modular St. Patrick's Hall, along a new arcade perpendicular to Our Lady of the Most Holy Trinity Chapel. Designed to facilitate the small, seminar discussions that are at the heart of the College's unique academic program, St. Gladys Hall is made possible through a $3.2 million grant from the Fritz B. Burns Foundation of Los Angeles.
Seeking St. Gladys' Intercession
The new classroom building will take its name from St. Gladys, a 5th century Welsh monarch and the patron saint of Fritz Burns' beloved wife, Gladys Carson Burns. Prior to the groundbreaking ceremony, the College offered a Votive Mass in St. Gladys' honor, seeking the intercession of this wife, mother, queen, and contemplative for the College and for the new building that will bear her name.
Noting that in Welsh, the word gladys can mean "cripple," or lame, College Chaplain Rev. Cornelius M. Buckley, S.J. spoke in his homily about lessons that the College's students will derive from having a handicapped saint among their patrons. "I can envision people coming to St. Gladys Hall," he said. "They will sit there and realize that our handicaps are blessings, blessings to enable us to grow in love of God and of our neighbor, and if we didn't have these handicaps, we would not be who God enables us to be."
Among those in attendance were three representatives of the Fritz B. Burns Foundation — President Rex Rawlinson and Trustees Maureen Rawlinson and Cheryl Robinson — as well as members of the College's Board of Governors, faculty, and President's Council. Also present were members of three generations of Gladys Burns' family: her daughter Frances Morehart; grandson Marty Morehart and his wife, Patricia; granddaughter-in-law Missy Mueller and her husband, Glen; and great-granddaughter Kelly Morehart.
Breaking Ground
At the following groundbreaking ceremony, Thomas Aquinas College President Michael F. McLean thanked the Fritz B. Burns Foundation for its longstanding support of the College, which has included substantial grants for four buildings: Bl. Junipero Serra Residence Hall, Albertus Magnus Science Hall, St. Thomas Hall, and now St. Gladys Hall. "We are deeply grateful for the Foundation's friendship and commitment to the College, and for its belief and confidence in the educational mission of the school," Dr. McLean said.
Attended by several of the College's student acolytes, College Chaplain Rev. Hildebrand Garceau, O. Praem., proceeded to bless the site of the new building, sprinkling holy water on the ground. "Through the gift of Your eternal wisdom, grant that the undertaking we begin today for Your glory and our own well-being may progress, day by day, to its successful completion," he prayed. Then Dr. McLean, Mr. and Mrs. Rawlinson, and Mrs. Robinson ceremoniously turned over the first four shovelfuls of dirt, thereby launching the construction project.
"Within the walls of this new building, students will engage in rigorous discussions about the great books," said R. James Wensley, Chairman of the Thomas Aquinas College Board of Governors. "Above all, in this beautiful new building, they will grow in love of the truth."
Speaking on behalf of the Burns Foundation, Mr. Rawlinson graciously thanked Dr. McLean and Mr. Wensley for the opportunity to partake in the College's mission of Catholic liberal education. "It is our pleasure to be part of this college," he said, "and to remember St. Gladys and Gladys Burns, a wonderful woman."
Posted: April 18, 2013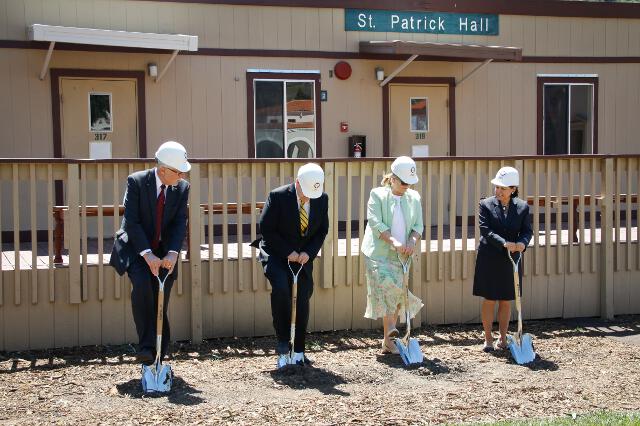 Dr. McLean plants a shovel on the site of St. Gladys Hall, alongside three representatives of the Fritz B. Burns Foundation: President Rex Rawlinson and Trustees Maureen Rawlinson and Cheryl Robinson.