Board of Governors
Honors College Founder
Peter L. DeLuca
Posted: November 6, 2018
At their annual retreat this past weekend, members of the Thomas Aquinas College Board of Governors took time to honor the Board's longest-serving member, Peter L. DeLuca.
"Peter, of course, is not only a founder of Thomas Aquinas College, he was the College's first employee," said President Michael F. McLean during a dinnertime presentation on Saturday. "Over the years, he has worn almost every hat in the administration, in charge at various times of the College's business affairs, finances, fundraising, and development. He served as vice president for finance and administration, the position he recently relinquished, for 22 years, and served nobly and admirably, with the best interest of the College at heart in every decision, consideration, meeting, and conversation."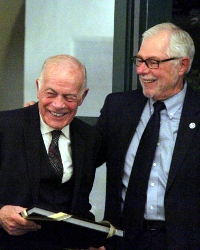 President McLean (right) presents Mr. DeLuca with a photo album chronicling his career at Thomas Aquinas CollegeAfter nearly 50 years of service to the College, Mr. DeLuca stepped down as an administrator this fall, turning his energies more fully to the classroom, where he continues to teach in the College's program of Catholic liberal education. Yet he still serves as a member of the Board of Governors, a position he has held since the Board's founding a half century ago. "I was there for the original meeting. I was one of the original incorporators, and I think I have been at every meeting since," he said. "I probably have, because of that, the best view of the importance of this Board of Governors to the institution as it has existed and extended through time. At so many critical points it has made the necessary decisions or provided the necessary wherewithal to make the College successful."
On behalf of the Board, President McLean thanked Mr. DeLuca and his wife, Kay, presenting them with an album of photographs that chronicle, as Dr. McLean described it, "the career and the life of a servant" of Thomas Aquinas College. "This is not a retirement ceremony," the president added. "This is just a mark of transition, the transition of one of the men who is the most important in the history of the College."
Taking the podium, Mr. DeLuca thanked his colleagues on the Board, both past and present, living and deceased. "I believe in what we are doing, and I believe in it even more now that I am teaching two sections of Freshman Theology again," he continued. "I see that it's changing students' souls. It's re-orienting them in a way that is absolutely and fundamentally important if we are going to have any kind of Christian civilization. …This is what the Church and the country need. This is the kind of thing that builds a civilization — and re-builds a civilization."
"The Discussion Method gives you a sense of finding the truth for yourself, and thereby owning it, rather than being told what to think."
– Isaac Cross ('19)
Leominster, Massachusetts
"Thomas Aquinas College is uniquely positioned and equipped to let light shine once more in our world, in our society, in our communities, in our families, in our relationships."
– Most Rev. Paul S. Coakley, S.T.L., D.D.
Archbishop of Oklahoma City
CALENDAR
NEWS FROM THE COLLEGE